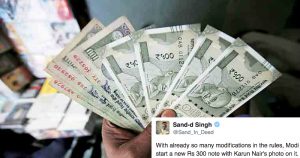 After Effects Of Demonetization: Twitter Mocks At RBI's Rapid Changing Rules
If there is something that changes every day, then the first of such kind will be RBI's rules after. It's been more than a month and every day certain modifications in RBI rules are observed.
Earlier, RBI stated that a withdrawal limit is Rs 5000 per week, on the same day, RBI stated that the limit is dropped to Rs 2000.
Well, that was the day when modifications started taking place. Now one can simply hear the notification of new RBI rules every day.
Prime Minister earlier on November 8 said that people can deposit any amount of their invalid currency in the bank by December 30. Quickly thereafter, finance minister Arun Jaitley took over the screen saying the deposit limit is Rs 2.5 lakh, and someone who wish to deposit more then that has to give proper explanation and proofs.
Later another norm came to limelight, that states "Tenders of SBNs (Specified Bank Notes of Rs 500 and Rs 1,000) in excess of Rs 5,000 into a bank account will be received for credit only once during the remaining period till December 30, 2016."
RBI explained, "The credit in such cases shall be afforded only after questioning (the) tenderer, on record, in the presence of at least two officials of the bank, as to why this could not be deposited earlier and receiving a satisfactory explanation."
This doesn't end here,
Later to that, Modi further stated that people can deposit their invalid money too, but they have to pay 50% as tax including some other regulations as penalties.
How can something change so many times, these abnormal and rapid changes in the RBI rules fussed up people's faith in the country's bank and left them in chaos.
Meanwhile, Twitter took this specifically and ended up mocking RBI at the whole next level.
Someone trolled the RBI rules comparing them to the Thumbs up add, on the other side, popular actor Paresh Rawal tweeted "
After demonetisation, @RBI has issued more rules than total number of Notes.

— Paresh Rawal Fan (@Babu_Bhaiyaa) December 19, 2016
Next Up: Ladies can keep only upto Rs 5k in their blouse & men can keep only upto Rs 20k in their chor pocket.#DeMonetisation

— The-Lying-Lama (@KyaUkhaadLega) December 19, 2016
With already so many modifications in the rules, Modi Ji might just start a new Rs 300 note with Karun Nair's photo on it. #IndvsEng

— Sand-d Singh (@Sand_In_Deed) December 19, 2016
Make it 3 so that it is proper Indian Idol audition https://t.co/E9WxghOzoi

— dorku (@Dorkstar) December 19, 2016
"Just shut up and print your own notes" – New RBI rule coming soon.

— Trendulkar (@Trendulkar) December 19, 2016
I think, every night, BJP has a wild party, after which, they decide the next day's banking rules.
That's why they are called ruling party.

— Ramesh Srivats (@rameshsrivats) December 19, 2016
"so how do we plan this demonitisation thing?"
"….we don't. We'll just make it up as we go"
"sounds perfect!"

— Cajole (@CajoleK) December 19, 2016
RBI should borrow the Old Thums Up Tagline, MODIfy it and make their Official Tagline – Aaj Kuch Too-Funny Karte hai

— Joy (@Joydas) December 19, 2016
Rare pic of Bal Narendra & Bal Arun playing the game of Snakes & Ladders. Sources say demonetisation is a result of this game only pic.twitter.com/TLV9XsypzX

— Ra_Bies (@Ra_Bies) December 19, 2016