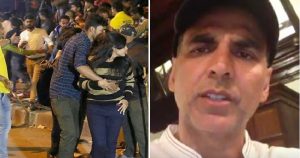 Watch: Akshay Kumar's Powerful Message To Women On Bengaluru Molestation Has Gone Viral!
Bengaluru's New Year incident is a blot of shame on the Indian society. Mass molestation of women in Bangalore ruined the New Year's eve for many. While people from across several sections of the society have condemned the assault on women, Bollywood too wasn't lagging in raising its voice on the issue.
Sharing a nation's anger, Bollywood superstar Akshay Kumar is extremely upset by the incident of mass molestation that happened in Bengaluru on the New Year's Eve, where many women were groped and molested despite a sizable police presence.
The actor posted a video on Twitter and expressed how depressed and disgusted he felt after he got to know about this incident. This video of Akshay Kumar has gone incessantly viral on the social media. The 49-year-old actor in stern words has taken on both the molesters and the people who have been defending the accused.
The actor said that he feels ashamed to be called a human and captioned the video with a message that read, "The Bangalore incident makes me feel we are evolving backward, from humans to animals, rather beasts coz even animals are better!Truly shameful"
Watch The Video Here:
The Bangalore incident makes me feel we r evolving backwards,from humans to animals,rather beasts coz even animals are better!Truly shameful pic.twitter.com/FJwJ80Mkby

— Akshay Kumar (@akshaykumar) January 5, 2017
The actor said his "blood boiled" when he learned about the molestation.
"

I am ashamed to be a human being today. I was returning from my New Year's vacation with my four-year-old daughter in my arms when I learnt about the molestation incident in Bangalore. I don't know how did you all feel about it, but my blood started boiling. I am a daughter's father but even if I was not one, I feel if a society cannot respect its women, it doesn't deserve to be called a humane society,

" he said.

Most disgusting, he added, was that "people have the guts to justify such shameful acts by criticizing women for their choice of clothes."  He advised that women should not consider themselves inferior to men, "just be fearless, be alert and learn self-defence.

"
Several people have praised Akshay's message and supported him on his point of Aggression.
Here some of the other actors who came in support with Akshay words. Take a look…
He's spoken what's on everyone's mind…Bangalore is just of the many incidents that happen everyday & yet nothing's being done about it !!! https://t.co/nZtgGuORHZ

— Arjun Kapoor (@arjunk26) January 5, 2017
Respect!!🙌🏻
All girls MUST learn some form of self defence! Be strong, Be independent! https://t.co/JofQZII4L2

— Kriti Sanon (@kritisanon) January 5, 2017
your self defense academies for women shows how concerned you are about women's safety ..so proud of you

— Harshi (@_KhiladiGirlx) January 5, 2017
salute you sir. Appeal the nation to stand against such acts strongly and punishment such animals which

— Kuldeep Rathore (@kuldeeprathor9) January 5, 2017
Not only Akshay, but it is the time when we stop remaining mute spectators to such incidents. What do you say?
Let us know your views in the comments section below. Share this information for the ones you care for.