AP Minister shouted at Shruti Haasan and Made her Cry
Actress Shruthi Haasan faced a bitter experience from a Minister from Andhra Pradesh. According to the news, Southern beauty Shruti Hasan who is busy with films in Telugu,Tamil and Hindi which is giving sleepless nights to both class and mass viewers. Hot honey eyed beauty Shruthi Haasan was travelling in a flight from Hyderabad to Tirupathi. Next to her sat a Andhra Pradesh Minister.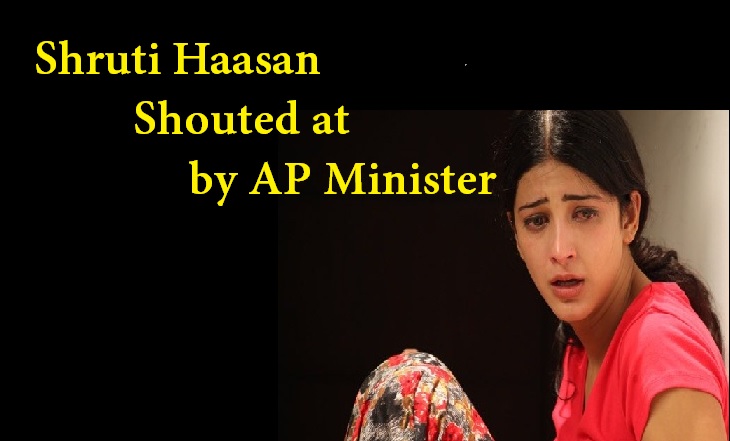 Shruthi Hassan, who was sitting in the front row of the minister in the flight gets annoyed and disturbed with minister's loud voice.  The minister speaking on phone, he was speaking loudly on the phone. Then Actress Shruthi Haasan politely asked him to switch off the mobile, because it is disturbing her and all other passengers.
All of a sudden Andhra Pradesh Minister lost his temper started shouting on Shruthi which shocked the people in the flight. But the minister not cared about the actress and started yelling at her. Poor Shruti Hassan cried and complained the same to Air Hostess and she asked the minister to Switch off the mobile phone. the journey remains nightmare for the bubbly girl.
Shruti Haasan shouted at by AP minister :Minister Manikyala Rao, Kamineni Srinivas Reactions :
AP Minister Manikyala Rao reacted on the incident. He said, "he got some important message so he need to responded to that message and its not the correct way for Actress Shruthi Haasan to talk in such a manner "
On the other hand,  AP Health Minister Kamineni Srinivas was angry on social media and said he was not in the flight with Shruti Haasan. The media reports against him was totally wrong.