Bharat Ratna Is Announced For Former PM Atal Bihari Vajpayee, Mahamana Madan Mohan Malviya
Bharatiya Janata Party senior most leader, a veteran politician, and former prime minister of India Sri Attal Bihari Vajpayee has been declared and was chosen Bharat Ratna by the NDA led Government of India.  There were speculations and a hint was earlier stated by Prime Minster of India Narendra Modi that Attal Bihari Vaypayee had been a true and great leader of India we ever had in few of his public addressing's.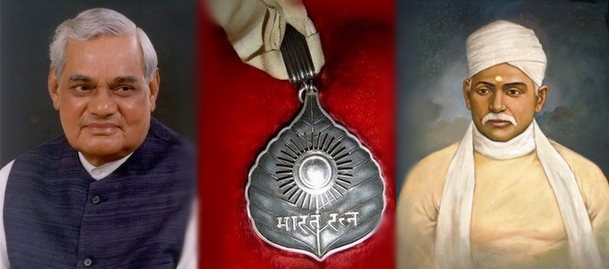 Birthday Present to Former PM AB Vajpayee A Day Before Birthday
At the same time there were several speculations over the birthday celebrations of Atal Bihari Vajpayee on December 25th and commemorating it has Sadbhavana Diwas officially and the announcement of the Bharat Ratna to Atal Bihari Vajpayee ahead his birthday has been raising more speculations in political arena. Indian freedom movement activist, freedom fighter, educationist and notable politician for his rolle in the Indian independence movement and his espousal of Hindu nationalism Pandit Madan Mohan Malaviya has also been conferred with the Bharat Ratna title posthumously. Pandit Madan Mohan Malaviya was one of the initial leaders of the far-right party Hindu Mahasabha and later in life, he was also addressed as 'Mahamana'.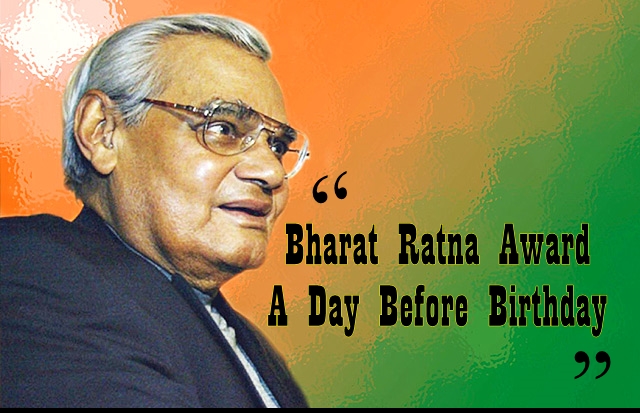 Modern Face Of BJP- Attal Bihari Vajpayee
Shri Vajpayee was Prime Minister of India from May 16-31, 1996, and then again from March 19, 1998 to May 13, 2004. With his swearing-in as Prime Minister after the parliamentary election of October 1999, he became the first and only person since Jawaharlal Nehru to occupy the office of the Prime Minister of India through three successive Lok Sabhas. Shri Vajpayee was the first Prime Minister since Smt. Indira Gandhi to lead his party to victory in successive elections. Born on December 25, 1924, in Gwalior, Madhya Pradesh to Shri Krishna Bihari Vajpayee and Smt. Krishna Devi, Shri Vajpayee brings with him a long parliamentary experience spanning over four decades. He has been a Member of Parliament since 1957. He was elected to the 5th, 6th and 7th Lok Sabha and again to the 10th, 11th 12th and 13th Lok Sabha and to Rajya Sabha in 1962 and 1986. In 2004, he was to Parliament from Lucknow in Uttar Pradesh for the fifth time consecutively. He is the only parliamentarian elected from four different States at different times – UP, Gujarat, MP and Delhi. His legacy as Prime Minister is a rich one that is remembered and cherished even a decade after his term ended. It included the Pokhran nuclear tests, astute and wise economic policies that laid the foundations of the longest period of sustained growth in independent Indian history, massive infrastructure projects such as those related to development of national highways and the Golden Quadrilateral. Few Indian Prime Ministers have left such a dramatic impact on society.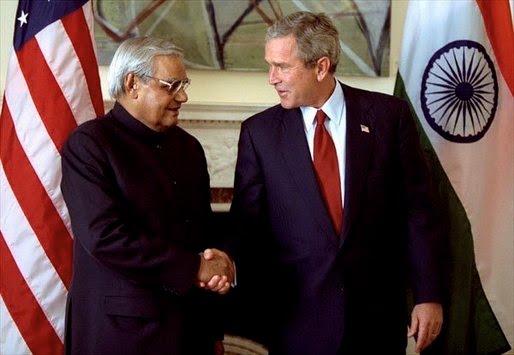 The announcement came ahead of Vajpayee's 90th birthday tomorrow. "The President has been pleased to award Bharat Ratna to Pandit Madan Mohan Malviya (posthumously) and to Atal Bihari Vajpayee," a press communique from Rashtrapati Bhavan said. Vajpayee is India's longest serving prime minister outside of Congress party, Vajpayee's detractors called him "mask" of the RSS. Several BJP leaders and MPs, including Murli Manohar Joshi, have demanded that the top honor be awarded to Vajpayee.  NDA partner Shiv Sena too came out in support of conferring Bharat Ratna to the first BJP Prime Minister.
Mahamana Madan Mohan Malaviya- Founder of Banaras Hindu University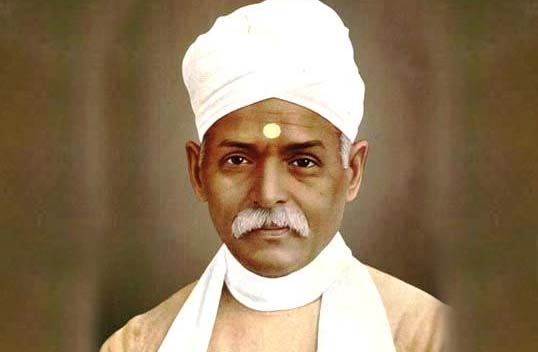 Madan Mohan Malaviya was an educationist with a vision and one his main achievement was the establishment of the Banaras Hindu University. He was born on December 25, 1861 and was catapulted into the political arena immediately after his first moving speech at the second Congress session held in Kolkata in 1886. Madan Mohan Malaviya served as President of INC in 1909 and 1918. Malviya is also remembered for his stellar role in the Independence movement and his espousal of Hindu nationalism. He was one of the initial leaders of the right-wing Hindu Mahasabha. The recommendation for Bharat Ratna is made by the Prime Minister himself to the President. Incidentally both the Bharat Ratna, highest civilian award India, conferred are born on December 25th and the award has been announced a day ahead of their birthday. Stay tuned for more updates.
Twitter Reactions and Tweets After Official Announcement of Bharat Ratna to A B Vajpayee and Madan Mohan Malaviya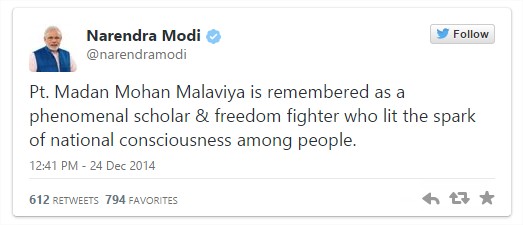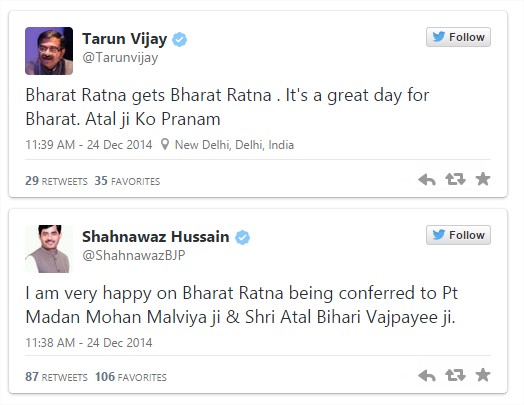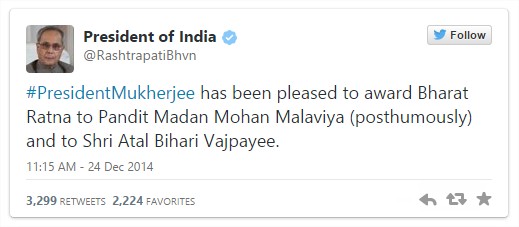 Stay tuned for more updates.