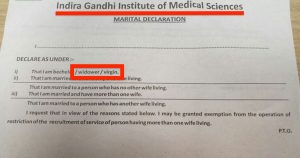 [WATCH VIDEO] 'Virgin Means Unmarried', Bihar Minister Gives Lame Explanation For University's Application Form
For some surely absurd reasons, Bihar University is once again on news, already well known for its weird things. Be it the way exams are conducted, be it about the question papers or the faculty. Everything seems quite awkward and completely crazy in this state university.
Earlier, this university was on news for forgetting to print the question papers for the major exams. This clearly revealed the negligence of the authorities, the seriousness in conductance of exams and what not. Isn't it mundane?
Following the instant outrage on the Internet, this university is once again on news for its lame application form. Check it out below:
Now this application has a bizarre question. Bihar's Indira Gandhi Institute Of Medical Sciences (IGIMS) affiliated to Indira Gandhi Technological and Medical Science University, Patna, asked its women employees to declare whether they are a virgin (or not). Yes, it is mundane, but such thing is no surprise in BU.
These Univ authorities recently passed a common application form to the MBBS and nursing courses staff for certain administrative purposes in which their marital status is demanded. For men, the administration has asked them to declare whether they are bachelors or widowers or married.
And the women are asked to declare whether they are virgin or married to a person who has no other wife living or someone who has more than one wife. Besides asking women employees such private details which amount to outraging their modesty, one of the premier government medical colleges in the country seems to be ignorant that having two wives is bigamy and is an offense under certain legal section.
After so much outcry on social media, and media houses, Health Minister Mangal Panday has come in front of media to explain the same, "The word which is used is 'virgin'. It means unmarried girl, maiden. I don't think these words are not objectionable. But still, this issue is being raised. I had a word with the officials of the IGIMS. They said that this is the format of AIIMS and since 1983, it is being used in every organization of the country."
Watch the video here:
#WATCH "Virgin means unmarried, nothing objectionable in it", says Bihar Health Minister Mangal Pandey on IGIMS marital status form row pic.twitter.com/OTQgoSs9Dp

— ANI (@ANI) August 3, 2017
He added that the declaration has been being used for 34 years the same way and there is nothing futile about that.
Related Article: 'Are You A Virgin?' Bihar University's Application Has This Weird Question, Check How Twitter Reacted To This