Latest: BJP Leaders Elect Devendra Fadnavis As New Chief Minister Of Maharashtra
Amidst the high drama and tough speculations for the new chief minister of Maharashtra BJP MLAs elected the new chief legislative party leader and chief minister of Maharashtra as Devendra Fadnavis. It was evident that Devendra Fadnavis has been the party chief and has led the Bharatiya Janta Party to astounding victory under the high commands supervision which turned out the possibility of him to be chief minister of Maharashtra. The name of Fadnavis was proposed by Leader of Opposition in the outgoing Assembly Eknath Khadse.
Devendra Fadnavis Elected By BJP MLA's As New Maharashtra Chief Minister
Devendra Fadnavis who represents the backward Vidharb region with no allegations of corruption and faithful party workmen of Bharatiya Janata Party made into the race of chief minister of Maharashtra was elected as CM of Maharashtra although many senior political leaders of BJP were competing for the CM race in Maharashtra. Newly elected 123 legislative leaders of Bharatiya Janta Party elected the new chief legislative party leader as Devendra Fadnavis at 4 pm in the evening on Tuesday in Maharashtra legislative assembly. Devendra Fadnavis who has been a member of legislature since past four years is going to be the second Brahmin chief minister after Manohar Joshi of Shiv Sena. He is representing Nagpur constituency where R.S.S head office is located.
Forty four year old Devendra Fadnavis is elected as next chief minister of Maharashtra. He will be the BJP's first CM in the state, the second-youngest CM after Sharad Pawar who was the youngest at age 38, and the second Brahmin CM after Manohar Joshi of the Shiv Sena. With both Prime Minister Narendra Modi and BJP chief Amit Shah clear that Fadnavis was their choice to head what will be the first single-party-led government in the state after two decades of coalition rule, the BJP put its formal stamp on his name on Tuesday.
Devendra Fadnavis was unanimously elected as leader of the BJP legislature party. After his election as the legislature party leader he along with senior BJP leaders drove to the Raj Bhavan and gave a formal letter to Governor Ch Vidyasagar Rao staking claim to form the government. The CM-designate will be sworn in at the Wankhede stadium on October 31, the birth anniversary of Sardar Vallabhbhai Patel. Although after the Maharashtra state assembly elections there were speculations and opinions polls revealing that who is going to be the next Chief Minister of Maharashtra at that instance it was clear that Devendra Fadnavis is going to be the next chief minister of Maharashtra with maximum possibilities.
Early Life of Devendra Fadnavis:
Devendra Fadnavis was born in Nagpur in 1970 in a middle class Deshastha Brahmin family. Devendra Fadnavis family was originally hailed from Wai District of Satara while during peshwa rule their family got  vatandari in Mul village Savali taluka Chandrapur District. Devendra Fadnavis father Gangadharrao Fadnavis was an former MLC from Nagpur who was associated first with Jan Sangh, later Janata Party, and BJP and his mother is Savita Fadnavis.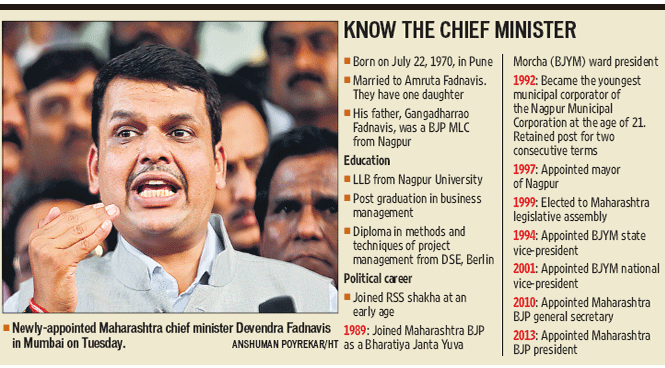 Devendra attended Dharampeth Jr. College in the year 1986–87 after which he completed a 5 year law degree from Law College Nagpur. From 1986–89, he was an active member of ABVP. Devendra Fadnavis was started as a ground worker at the grassroots of ABVP where he painted walls and stuck promotional posters on them for politicians. Devendra also has a Post Graduate Degree in Business Management and a diploma in Project Management from D. S. E.(German Foundation for International Development), Berlin. Devendra married Amruta Ranade in 2006. She is a branch manager of Axis Bank in Nagpur. Ranade hails from a non-political family background. Her parents are doctors in Nagpur. Devendra and Amruta have a daughter named Divija.
BJP central observers Rajnath Singh and JP Nadda had been in Mumbai to meet the party's 123 legislators to avoid any rift within the party as there were more than one chief ministerial claimants in the fray. Senior leaders Eknath Khadse, Pankaja Munde and Nitin Gadkari loyalists had pitched themselves for the top post. All India Round Up conveys its best wishes to the new Chief Minister of Maharashtra Devendra Fadnavis. Stay tuned to All India Youth for best trending and true news. We do journalism with ethics not with cheap tricks as truth alone triumphs.