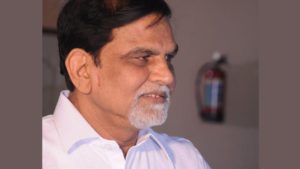 BJP MLA Ashok Singh Chandel Gets Life Imprisonment For Murder Case Which Killed 5 Members Of A Family In 1997
The Allahabad High-Court has sentenced Ashok Singh Chandel BJP MLA and nine other people to life imprisonment in a 22 year old murder case that killed 5 family members in Hamirpur, Bundelkhand.
Ashok Singh Chandel was once an MP and is a 4 time MLA in Hamirpur started his political career in 1989, he started as an Independent MLA.
He is currently an MLA from the BJP in Hamirpur.
A petition filed by Rajiv Shukla and the State Government, a division bench that includes Justice Ramesh Sinha and Justice Dinesh Kumar Singh reversed the decision of the sessions judge on July 17, 2002, in which all the 10 accused were acquitted, which includes MLA Ashok Singh Chandel.
The State Government and Rajiv Shukla, the complainant, challenged the decision that was handed out by the sessions and district judge.
On 26th of January, 1997 an altercation BJP Netas Shukla and Ashok Singh Chandel led to a gun shootout in Hamirpur in which 5 people were killed, which includes Rajesh and Rakesh the 2 older brothers of Shukla, Ambujh his 9-year-old nephew, Srikant Pandey and Ved Nayak.
5 more people which include 2 kids were shot in the altercation.
An FIR that was filed for the incident had the name of Ashok Singh Chandel in it and other people, after the investigation started, a charge-sheet was filed for the case.
After the trial, all the accused and Ashok Singh Chandel were acquitted on 17th of July, 2002, by the sessions and district judge of Hamirpur, they said that the testimony of all the witnesses was doubtful.
The decision of the sessions and district judge was challenged by Shukla, he is also the main complainant.