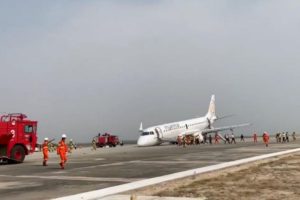 Caught On Camera: Myanmar Air Pilot Saves 89 Passengers With Amazing Emergency Landing After Landing Gear Fails
The pilot of the Myanmar Airlines Flight UB-103 saved 89 passengers that were on board with an amazing emergency landing after its landing gears failed. The incident happened earlier today.
A video captured the emergency landing. Hats off to the amazing pilot who managed to land the plane properly without injuring anyone onboard the plane.
Here is the video of the emergency landing.
#MNA (Embraer 190) #Yangon–#Mandalay this morning, landing at the #Mandalay airport – Nose Lansing Gear failure on landing. Flight Capt. has done the amazing job. #Myanmar pic.twitter.com/7dDzSIs13V

— Cape Diamond (@cape_diamond) May 12, 2019
The Deputy Director General of Myanmar's Civil Aviation Department, Ye Htut Aung said, "They tried hard twice by flying around twice and asked to check whether the nose wheel dropped or not."
He added that it was a technical fault and that why "they had to land with the back wheels… The pilot could land it skillfully."
Ye added that there were no casualties in the incident.
A passenger of the Myanmar Airlines Flight UB-103, Soe Moe said, "Smoke came out a little when we landed… All passengers are okay."
The Myanmar National Airlines have launched a probe for the incident and are going to send engineers to Mandalay to check out the aircraft.