CCC Result August 2018 Available Online From 11 September Onwards
Latest News: CCC Result August 2018 Available Online From 11 September Onwards – On an official website having authorised URL – https://student.nielit.gov.in, under Result Notification section, it has been clarified that August 2018 ITL, Course on Computer Concepts result can be viewed/printed from 11-Sep-2018.
For all those candidates who were unable to qualify this time and are thinking to prepare for next CCC examination should keep in mind that according to the detailed syllabus of CCC, there are eight major topics in CCC Syllabus. For reason that CCC Result August 2018 doesn't make them feel inferior, next time appearing candidates should undoubtedly go through the in-depth knowledge of – Making Small Presentation, Communication and Collaboration, WWW and Web Browser, Computer Communication and Internet, Spread Sheet, Elements of Word Processing, Introduction of GUI (Graphic User Interface) based Operating System and Introduction to Computer.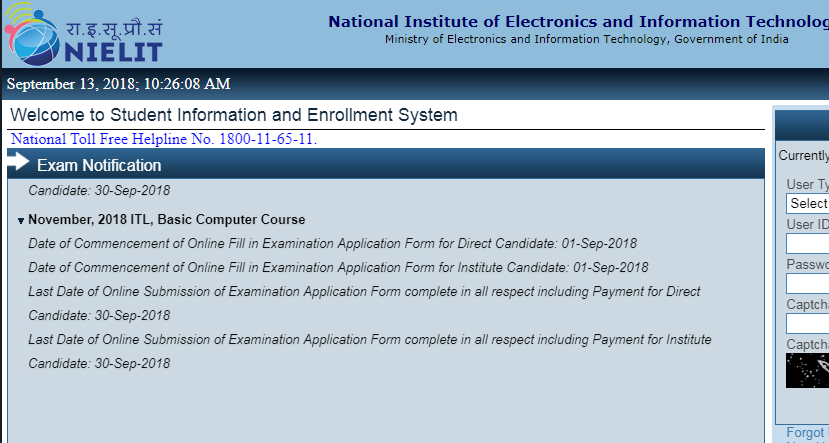 For example, important topics from Introduction to Computer Chapter are – History of Computers, Characteristics of Computer System, Basic Applications of Computer, Central Processing Unit, Keyboard, Mouse and VDU, Other Input Devices, Other Output Devices, Computer Memory, Hardware, Software, Application Software and Systems Software etc.
Undoubtedly, For August 2018 Cycle, CCC Result can be checked using the links given above. But there are cases in which applied candidates are getting an error of Invalid Credentials, such candidates are advised to have the patience for few days as there is nothing to worried about. For more authentic updates and latest news related to Course on Computer Concept and National Institute of Electronics and Information Technology such as CCC Result August 2018 Available Online From 11 September Onwards, please don't forget to go through below provided links on ALLINDIAROUNDUP news portal such as –