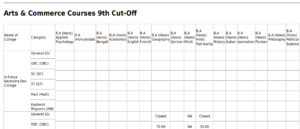 Delhi University 9th Cut Off List Released Today
Delhi University 9th Cut Off List Released Today: Ninth Cut off List of the University of Delhi has also clearly depicted that for humanities and science courses, seats are available in off-campus colleges like Gargi College, Atma Ram Sanatan Dharma College, Deshbandhu College, Acharya Narendra Dev College etc.
For BSc (Hons) Computer Mathematics and Computer Science respectively, Indraprastha College is looking for students with 94.25% and 93.25%. Whereas Hindu College still avail seats for Bachelor of Science (Hons) Chemistry and Physics Courses, BSc Life Science seats are there in Hansraj College, and, BSc Life Science, Bachelor of Arts (Hons) Hindi, Bachelor of Commerce, BCom (Hons) courses seats are still lying vacant in Daulat Ram College.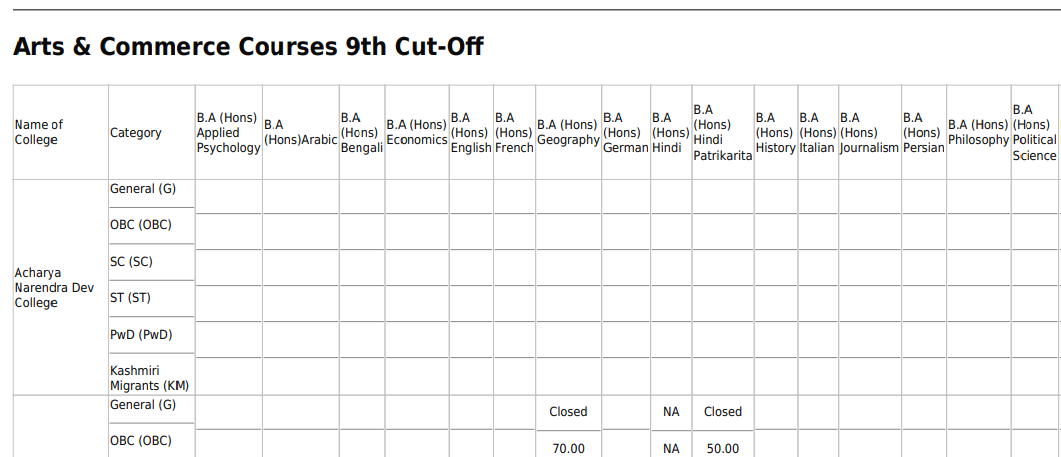 Using link provided below, students planning to take admission into prestigious Delhi University can check Arts and Commerce Courses 9th Cut Off for BA Hons Applied Psychology, Arabic, Bengali, Economics, English, French, Geography, German, Hindi, Hindi Patrikarita, History, Italian, Journalism, Persian, Philosophy, Political Science, Psychology, Punjabi, Sanskrit, Social Work, Sociology, Spanish, Urdu, BA Programme, Bachelor of Commerce, Advance Diploma in TV Programmes and News Production.
And, BA Vocational Tourism Management, BA Vocational Human Resources Management, BA Management and Marking of Insurance, BA Marketing Management and Retail Business, BA Material Management, BA Office Management and Secretarial Practice, B.Voc. Banking Operations, B.Voc Health Care management, Printing Technology, Retail Management and IT, Software Development and Web Designing.
While concluding with the Cut Off List, the board has also mentioned about specific remarks against any course, please visit the website of the respective college. And, for detailed information and any inadvertent typographical error, kindly also compare with the respective college's official website. In a few cases, Girls candidates will be given relaxation upto 1% in best four percentage. Concession of 4% in best four calculation to students taking Sanskrit or Urdu as MIL in BA Programme.
Also, there will be the relaxation of 1% marks in aggregate for Girl candidates. Kashmiri migrant is requested to contact convener, admission committee directly. For more updates and latest news related to Delhi University 9th Cut Off List, download PDF here and visit ALLINDIAROUNDUP on regular basis.