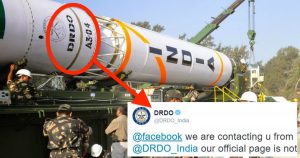 DRDO Faces 'Facebook Sign-in' Issues & This Is How Twitterati Helped
Nowadays government is turning digital and stepping on to social media to let its citizens know about the current updates and notifications. Union ministers like Sushma Swaraj are resolving possible social issues within hours and on the other hand, there are some websites and social media pages handled by the government which is quite often trolled for their lame services.
India's top military agency, Defence Research and Development Organisation (DRDO) has joined this category by posting some frugal issues regarding 'signing in into facebook account'.
The organisation simply took on to its twitter handle and tweeted on the issue tagging 'facebook' directly, maybe they're expecting Mark Zuckerberg himself to resolve the issue. This publicization of the problem resulted in a lot of criticism from others. While many questioned the competence of a research organisation for defence services, many of them provided solutions for the same- some funny and some serious.
Some criticised the agency for recruiting poor social media managers, meanwhile, others took no room left in trolling the page. Quickly after getting slammed on twitter, the respective authorities quickly deleted the post.
Here is how people reacted:
.@DRDO_India I can access it from outside. Pls share your password so that I can check the problem from inside 😉 @facebook pic.twitter.com/x2f7K5gc0f

— Kapil (@kapsology) January 20, 2017
A Desi suggestion:
https://twitter.com/NavenduSingh_/status/822370261227868161?ref_src=twsrc%5Etfw
When someone turned out patriotic:
. @DRDO_India instead of playing candy crush saga on facebook, concentrate on india's defence. Atleast think abt our solders at the border😒

— kiduva (@kiduva) January 20, 2017
And an unlimited criticism:
DRDO, the custodians of national military research & development secrets. Look at how they advertise themselves. Who hires such morons? https://t.co/2mrnYVVU3K

— Harsaran Singh (@Harsarans) January 20, 2017
While 46% of NASA scientists are Indians, our top defence research agency is asking for help from FB on twitter. (Also sms lingo – #plz #u.) pic.twitter.com/jaO6FkWJm8

— Aisi Taisi Democracy (@AisiTaisiDemo) January 20, 2017