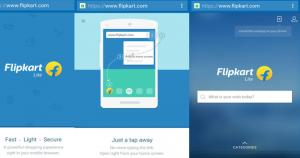 Flipkart's Flip-Flop on App-Only Stategy? Partners With Google to Launch 'Flipkart Lite' Mobile Website
Flipkart, India's largest E-commerce firm seems to flip-flop on its App-Only strategy and now relaunches a mobile web option – something it had abandoned earlier this year. Flipkart has now launched an app-like mobile website called 'Flipkart Lite' on Monday for providing more consumer experience with more app-like features. A long time back, we've heard that Flipkart and its acquisition, Myntra moved towards app-only strategy and completely shut down its mobile version by forcing its customers to install the mobile app.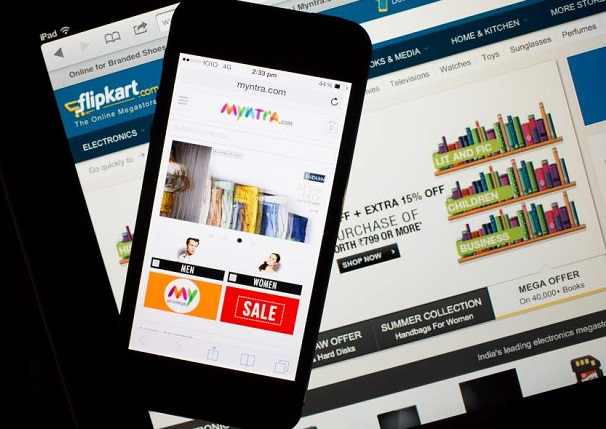 Over the past year, the company had analyzed their sales through the app only strategy from a business as well as consumer's perspective. Every business will grow only when a consumer is pleased with its services. This has been proved with the Flipkart Big Billion Days app exclusive Sale that have happened during the festive season. Flipkart completely went app only, while its rival Amazon used mixed strategy between its website and app. However, the app only strategy of Flipkart cannot be completely derided as there is significantly high percentage of users who are transacting via smartphones.
Flipkart Partners With Google to Launch App-Like Mobile Website
Flipkart partners with Google and both are working collectively to create a new mobile optimised website called Flipkart Lite that would support smartphone users to continue shopping on the E-commerce platform without having to install a mobile application. Moreover, users who are using platforms other than Android, or iOS could also transact via a mobile browser. The users who don't wish to install any kind of mobile apps can use this new mobile web application.
While opening Flipkart mobile app on their phones, people are facing an issue like low storage capacity. So, Flipkart brings this new mobile website that allow customers to use Flipkart straight from links on other websites and social media.
"Websites push users to install the app. But only 4% of the people actually install the app. Flipkart doesn't have a mobile website. So we wanted to give the experience of a native application on a mobile website," said Peeyush Ranjan, head of engineering at Flipkart.
Flipkart partnered with both Chrome and Opera to build this first-of-its-kind mobile website, and the company is also planning to do the same with Mozilla Firefox. Flipkart has added a list of functionalities to the Chrome that helps to create a web application that worked similar to its native application.
'Flipkart Lite' – New Mobile Website
Flipkart has developed this new Flipkart Lite app which can be completely optimised for low-bandwidth connections. So, it actually does not require any dedicated disk storage space. Through this new app-like mobile website, customers can experience one-touch home screen icon installation. One-Touch Home Screen icon is nothing but the Flipkart icon which can be used to browse instead of using the browser icon.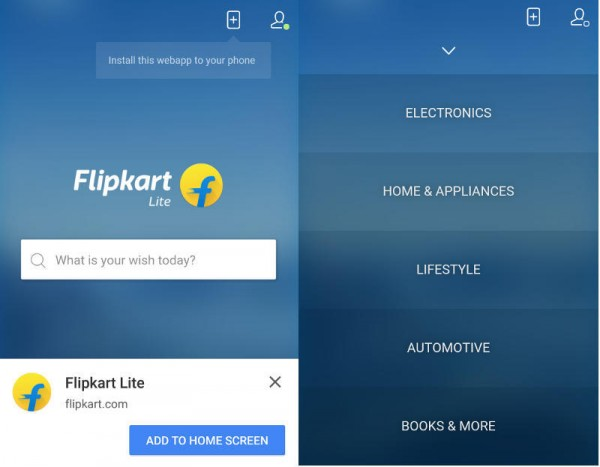 It uses considerably less wireless data than apps. Web pages can be rendered quickly at 60 frames per second to ensure smooth scrolling and animations. The user will get push notifications similar to its app-like features and provides and ability to work offline. A user will access to your hardware and contacts get innovative interactive features like image search. Flipkart has launched this new website with amazing features which weren't possible in a mobile web.
Let us hope this move is a positive step and shows that Flipkart has backed with its dominant website. Moreover, the customers can easily shop online without the need of installing another app which was really annoying. However, it's the user choice to choose between an app or the same old style of web browsing.