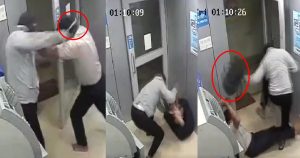 CCTV Footage: This Goa Security Guard Foils ATM Robbery Attempt Despite Multiple Hammer Blows To Head [WATCH VIDEO]
It was a nerve-wrecking robbery attempt caught on CCTV at an ATM in Panaji, Goa. A security guard posted at one the ATMs of the Bank of Maharashtra in Panaji foiled an attempt of robbery by an armed goon.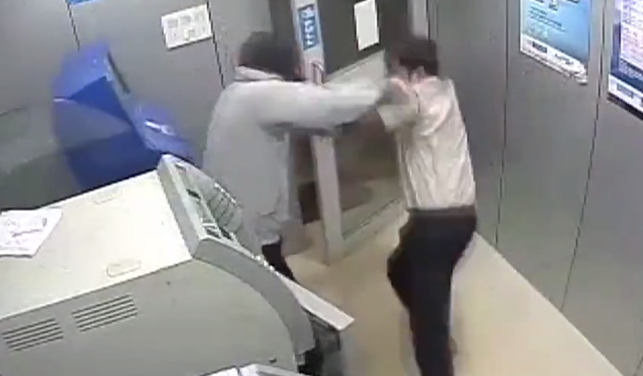 The incident, which took place on October 27 past midnight, was captured on CCTV camera from inside the Bank of Maharashtra ATM. The security guard Was seen being hit on the head multiple times with a hammer by the thief.
In the 40-second long video, a masked man is seen trying to escape with a black backpack when the guard stops him from behind. The man then brutally assaults the guard with what seems to be a hammer. Despite being hit multiple times on the head, the guard manages to stop the attack.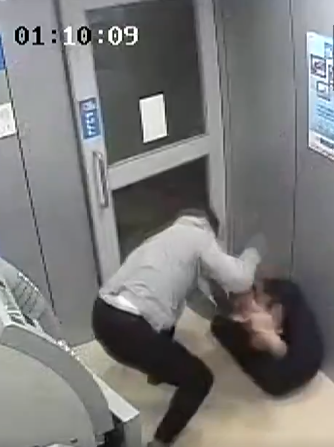 Even with a bleeding head, the guard manages to remove the mask from the robber and tried his best to nab the robber. After being hit several times, the guard fell down on the floor and the robber managed to escape from the spot.
During the course of the incident, the guard had even managed to snatch the hammer from the robber. But he failed to bring the robber under his control. Also, the robber's face could not be caught in the CCTV footage.
Watch The Video Here:
#WATCH:Hit multiple times on the head by a robber, security guard of Bank of Maharashtra ATM in #Goa's Panaji foils attempt. Case registered pic.twitter.com/Ca75oFPGED

— ANI (@ANI) October 28, 2017
The security guard has been identified as Ranu Singh who risked his life and foiled ATM robbery attempt.
Meanwhile, a case has been registered with the police and further details are awaited. Police said that they are scrutinizing the CCTV footage and assured that the robber will be arrested very soon.
Also Watch: CCTV Footage Of Man Casually Pushing Woman Onto Railway Tracks For No Reason