[WATCH VIDEO] A Guy Filmed A Girl Without Her Permission In Train And She Taught The Culprit A Lesson He'll Never Forget
There are so many categories which form a woman's baggage. This bag is like a huge clutch to our identity which you can't let go off, no matter how hard you try. It ridicules the idea of womanhood which is apparently glorious.
You'd think we have run over such things in the 21st century, but it still forms an integral part of our lives. Sadly, this is a concrete way for so many crimes which fail to fight with the concept of equality and majorly feminism.
There are so many incidents where women are treated in a lustful manner and robbed of their dignities just because someone thinks to stop their area of freedom and expression. Safety of girls have always been questionable in our country and yet one such incident happened in West Bengal which brings us back to this question.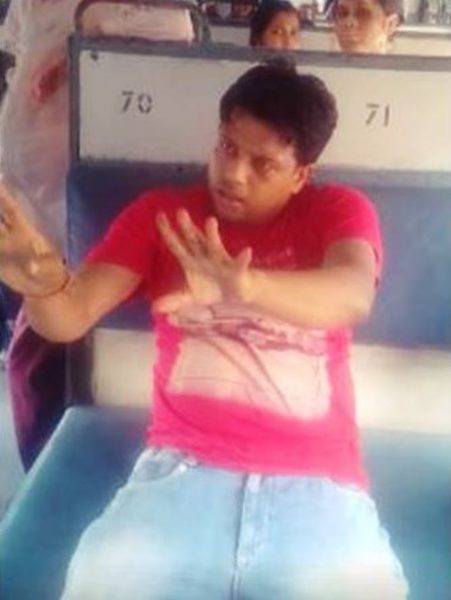 If someone clicks our pictures without our permission we are bound to feel uncomfortable. In the same way, a girl named Ditsa Upadhyay was traveling in Kolkata's Howrah-Malda Intercity Express on July 28.
A man named Pintu Mondal was sitting opposite to her and started taking pictures of a girl in the train without seeking her permission. Ditsa soon noticed what's going on and snatched the phone from Pintu, but the phone got locked in a jiffy. Ditsa was brave enough to confront the guy who clearly thought he'd be successful in his cheap endeavor.
When she asked him why he was clicking her picture, first he denied his involvement, but towards the next station, he owned up to his mistake. When she asked him to unlock his phone and prove his innocence, he was unwilling to do that either. Pintu argued for a long time and Ditsa was brave enough to confront about it without any fear.
He said that he was fascinated by Ditsa's tattoo on her back and hence clicked the picture.
Watch The Video Here:
Ditsa argued that he can't click her picture without her permission and took the matter to the police. Ditsa went to the police, but the police officials' dreadful behavior was completely unexpected. They said, "good girls from good families" shouldn't get into the trouble of police and courts.
When asked her how important it is for a girl to confront a creep in public spaces. To which, she said: Nowadays, every now and then in bus trams or on road, girls face these kinds of problems. But most of us do not raise our voice because we are scared of different attacks happening in and around. But I feel one has to raise her voice, one should show the courage so that all can get the strength.
Must Read: India's Wealthiest Woman Sudha Murthy Reveals The Tale Of Not Buying A Saree Since 21 Years
We salute Ditsa for her bravery, or such cheap person could have got away and done the same with others. Do let us know about your views with us in the comments section below.