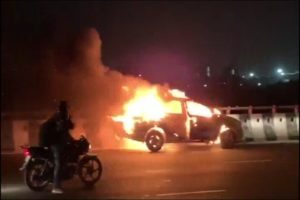 Inspector Burnt Alive Inside His Car When He Was Returning From His Daughter's Engagement Ceremony In Madhya Pradesh
Ashok Tiwari, a Police Sub-Inspector, was on his way home after he attended the engagement ceremony of his daughter when suddenly his car got hit by a truck near the Panwadi Village in Rajgarh, Madhya Pradesh.
The collision caused a fire on the car and burnt the sub-inspector inside.
Ashok Tiwari was posted as the Officer-In-Charge at the Leemachauhan Police Station in Rajgarh, Madhya Pradesh.
He was on his way home to Allahabad and was traveling through Bhopal.
Preliminary investigations revealed that the Tiwari was trapped inside his car after the accident happened, and was unable to get out of the car when the fire broke out.
Sub-Divisional Officer Nagendra Singh Bais said that an investigation will be carried out for the accident.