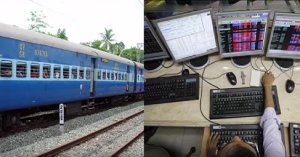 IRCTC extends e-ticketing Booking Time Window by 15 minutes
In yet another passenger-friendly initiative, Indian Railway Catering and Tourism Corporation (IRCTC), a subsidiary of the Indian Railways announced that it has extended the time for e-ticket booking on its portal by 15 minutes till 11:45 pm.

Before the introduction of the new timing, passengers were allowed to book tickets through e-ticketing till 11.30 pm. Now, online users will effectively get 15 minutes extra to book train tickets online through IRCTC.
Under the earlier arrangement, the IRCTC used to shut down its main server for one hour every day from 11.30 pm to 12.30 am for maintenance. During this one hour, e-ticketing service was fully closed and passengers were allowed to book tickets through e-ticketing till only 11:30 pm. Now, with the introduction of the new system on September 20, IRCTC's main server will be closed for 45 minutes only from 11.45 pm to 12.30 am. Hence, the website will now be unavailable for 45 minutes only.
IRCTC, a 'Mini Ratna' PSU of Indian Railways, said that it had recently imported five new HP Itanium servers from Singapore to speed up e-ticketing operations on its digital platform. This will enable a 45 minutes repair window as against the earlier 60-minute repair window. Earlier on June 1, IRCTC had installed two Linux-enabled servers, substantially raising the booking capacity of e-tickets.
"The introduction of these new high-speed servers has substantially enhanced the web site performance, including log-in time and payment gateway, which is why passengers are getting 15 more minutes for e-ticketing service," said Dr. A K Manocha, Chairman and Managing Director, IRCTC.
The extended time period will also be available to passengers booking through the traditional railway station counters, where tickets can be booked and cancelled.
IRCTC claims that it has 30 million registered users on the website and is the world's second busiest, with around 550,000 to 600,000 bookings every day. The average daily sale of train tickets through the portal is around 5.5 to 6 lakh.