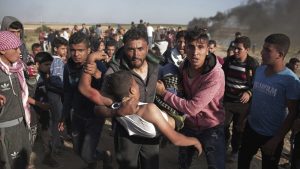 Israel's Attack On Protesting Palestinians Was Aimed At Killing Or Disabling Them
Gaza City: With the Israel's brutal attack on innocent protesting Palestinians in their fight for rights have either killed or disabled many people for life.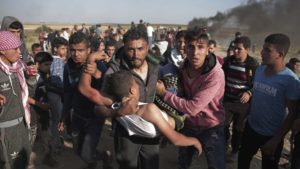 One such example is Mohammad Othman, aged about 15-years, lies on a hospital bed at the intensive care unit of al-Shifa hospital in Palestine's Gaza Strip – considered to be the oldest and biggest medical facility in the besieged enclave.
Othman is one among those  1,500 Palestinians wounded on Friday when the Israeli army started a storm of live ammunition, threw tear gas and fired rubber-coated steel bullets on thousands of who had gathered there protest along the Gaza Strip's eastern border with Israel, killing atleast 18 Palestinians.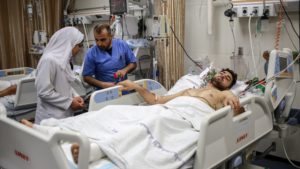 While speaking to news reporters, Othman, whose bed was lined with many Palestinian flags and flowers from relatives and friends after he sustained a bullet injury to the back of his head, says he never expected to be targeted.
"I was 300 metres away from the fence [between the Gaza Strip and Israel], along with my siblings, when I was shot," says Othman.
"I meant to avoid approaching the borders to keep my younger brothers safe, and yet, I was targeted."
Othman has almost spent the past two days under intensive care after doctors declared his case to be a  critical one.
Another six  Palestinians remained in the hospital's ICU after Friday's events, in which Palestinians protested peacefully to mark Land Day, calling for the right of return of for the Palestinian refugees.
Friday's demonstrations, dubbed "the Great March of Return", were called for by several civil society groups to kick off a six-week sit-in leading up to the commemoration of the Nakba on May 15.
Al-Juaidi, head of the ICU at the hospital, told news reporters that all the afflicted persons coming into the hospital had injuries with head, knee joints or pelvic joints as the center of target.
"This shows that Israeli forces were shooting-to-kill, or to cause disabilities," he said.
Describing the current conditions at the hospital after Friday, al-Juaidi said the hospital facility had admitted dozens of Palestinian men, women and children below the age of 16.
"It was chaos when people started pouring into the hospital – particularly due to the shortage of medication we suffer in the health sector," continued al-Juaidi.
The Gaza Strip has the population of about two million people and has been under an Israeli land, sea and air blockade for more than a decade.
The besieged area has witnessed three large-scale Israeli deliberate assaults that have damaged much of the area's infrastructure and worsened conditions, in which more than 80 percent of the population depends upon humanitarian assistance to survive.
Almost 70 percent of Gaza's population is comprised of refugees from the Palestinian territories which were taken over by Zionist armed groups during a campaign of ethnic cleansing in 1948 to establish the state of Israel, known to Arabs as the Nakba.
Marwan Yassin, aged about 15 years was also involved in the demonstrations. He also had to lie wrapped in a heavy blanket. Support metal rods were used for his right leg.
You May Also Read: US Supports Israel's Cruelty Towards Palestinian 'Great March' Protesters, Blocks UNSC Statement Against Israel