CM KCR Promises To Take Care of Pratyusha
Telangana CM K Chandrashekar Rao on Saturday along with his wife Shobha Rani and daughter MP K Kavitha, directly visited Prathyusha, the girl who was tortured by her step-mother and father , at the Global Hospital which is situated in LB Nagar. Telangana Chief Minister decided to take care of Pratyusha, the 19 year old girl.
CM KCR, who brought fruits for Pratyusha, invited her to his home to stay with his family after she is discharged from the hospital. The girl when asked about her past she recalled how she was tortured by her step mother and neglected by her father. She wished they never get out of prison. "They still come in my dreams and beat me up.I am still scared of them," she told to CM KCR following which he promised her safety and said that they will be punishment as per the law.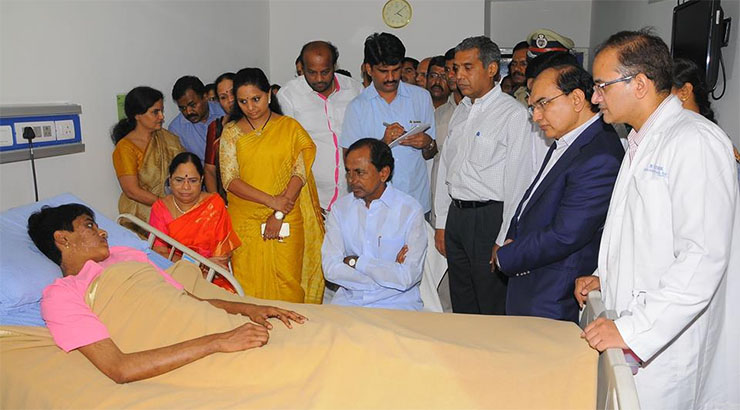 When Prathyusha informed CM KCR about her wish to study BSc Nursing, he immediately agreed to it and promised that the expenses of her higher studies with be taken care by him. When the conversation is going on Home minister Nayani Narasimha Reddy, Cyberabad police commissioner CV Anand, Rangareddy district collector Raghunandan Rao were present. KCR promised the girl that the expenses for her treatment and education from now will be borne by the government.
After coming to know about the tragic story of Pratyusha through media KCR was moved alot. "I will bear all her educational expenses and try to give a new life on Ramzan festival day." KCR Said
It is already known that Pratyusha's step-mother, Shyamala and father Ramesh were arrested and the case is in the High Court.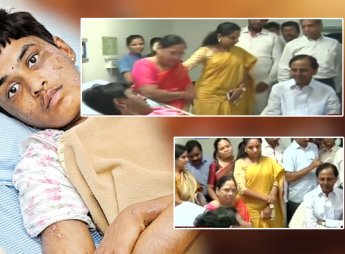 He also handed over some amount for her expenses and also inquired with the doctors about her condition. They informed CM that Pratyusha is currently undergoing treatment and complained of chest pain earlier on Friday. While her condition has stabilised, she is suffering from Post-Traumatic Stress Disorder (PTSD) and it takes few more days to her to get back to normal stage. He instructed RR district collector Raghunandan Rao and Cyberabad Police Commissioner CV Anand to take care of her.
CM KCR had a long conversation with Pratyusha which says "Forget whatever happened so far. Everybody has to face problems in life, we must face them and survive.There is a long life ahead and you must begin a new life.You must become strong enough to help people like you. The government will take care of your treatment, education. We will also provide you a house with government's money. I will find a suitable boy and bear all expenses of your marriage. Never feel, you are alone. You come to my house once you are discharged. I will admit you in a good hostel and provide good education. Kavitha will be with you. Live with confidence, CM is behind you. I will provide police security to you. Home Minister, Nayani Narasimha Reddy will also help you."