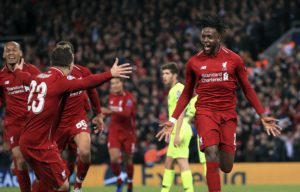 Liverpool 4-0 Barcelona (Aggregate 4-3): Historic Comeback By Liverpool Stuns Barcelona In UCL
Liverpool stunned Barcelona with their epic and historical comeback in the UEFA Champions League, the final score was Liverpool 4-0 Barcelona (aggregate 4-3).
Barcelona won the first match in Camp Nou last week, the team scored 3 goals and were expected to win the second leg.
But Liverpool shocked everyone out and booked their place in the UEFA Champions League final in Madrid on June 1.
After the match, Lionel Messi was required to undergo a doping test at Anfield.
According to sources, the test took so long that the team bus of Barcelona left him at Anfield and went on to the airport.
Messi reunited with his team after he provided a urine sample, they were headed back to Spain.
Sergio Busquets apologized for the humiliating exit of Barcelona in the UEFA Champions League.
During an interview, the midfielder said, 'They have been better than us. I apologize.'
He added, 'After what happened in Rome, this happened again. It's tough to go out like this after the first-leg result. Liverpool has been smarter than us, they were faster. I think we had chances to score the goal we needed, but it wasn't meant to be today.'
Liverpool is set to return in Premier League Action on Sunday as they host the Wolves in their final match of the PL season.