Man Dressed Up As An Easter Bunny Stops A Man From Beating A Woman In Downtown Orlando
Recently, a video was shared on Instagram that showed a man, who was dressed up as an Easter Bunny, getting involved in an ongoing brawl in Downtown Orlando. The incident happened on Sunday evening.
Antoine McDonald, the man in the video who is dressed up as an Easter Bunny gets involved in a brawl while he tries to break it up.
In the video, you can clearly see Antoine throwing a number of serious power punches at a man who was beating a woman.
Antoine said that he was wearing the Easter bunny suit for fun and was out with his cousin and friend when the incident happened.
Antoine bought the Easter Bunny suit a couple of months ago from Walmart.
He added that while they were walking up to a club in Downtown Orlando, he saw a grown man spitting on a woman, and when the woman fought back, the man punched her.
Antoine said, "I see this lady and this guy going back and forth, and I'm just looking at it and walking. Then I see him spit on her and she starts hitting him, so I walk over there. I try to help. I try to break up the fight at first. I felt I had to do something to help get him off of her to make sure she got away from fight safely and unharmed."
A bunch of people who were looking at Antoine and started to laugh and pointed out that he was dressed up as an Easter bunny.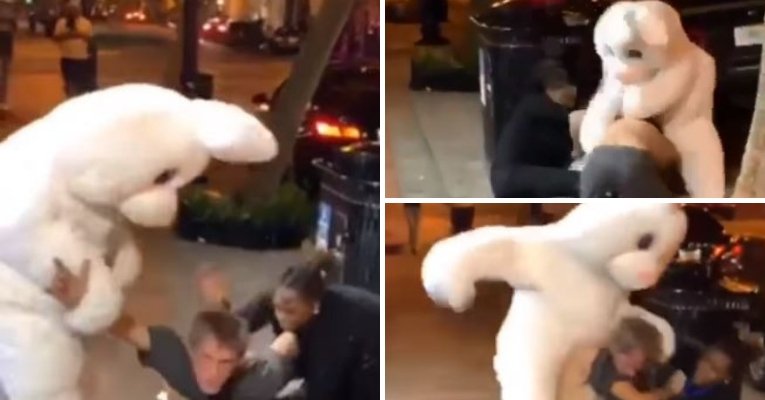 Workkk, a club promoter captured the brawl on his personal phone, he posted the video on Instagram with the caption of "Only in Florida; only in Orlando you see a bunny fighting, you've got to pull your phone out."
The video had more than 1 million views before it was taken down by Instagram.
A cop, later on, came to the scene and broke up the brawl.
Officials said that they did not arrest anyone as no one was injured in the brawl and no one wanted to press charges.
Antoine carried on his night with his cousin and friends, he said he received a lot of attention because of the Easter bunny suit that he wore.
He said, "I'm walking down the street going about my day in my bunny suit and people are like, 'Oh, did you just get in a fight? Was that you?' I'm like, 'Excuse me?'"
"Honestly, I did not expect this", said Antoine.