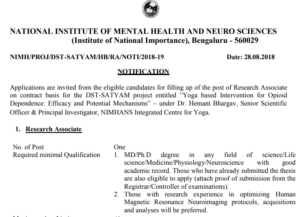 NIMHANS Field Assistant Recruitment 2018: Scientist C Vacancy Notification
NIMHANS Field Assistant Recruitment 2018: Scientist C Vacancy Notification – In continuation with 29th August 2018 Vacancy Notification release of NIMHANS Research Associate, Yoga Therapist Offline form 2018 for 02 vacancies, Board of Controller of Examination has also released job vacancy recruitment notification for 05 posts of Scientist – C, Field Assistant on 3rd September 2018. In the case of Yoga therapists, 35 years is the maximum age limit. And, Rs. 29,607/- consolidated per month remuneration will be given to eligible and passed candidates.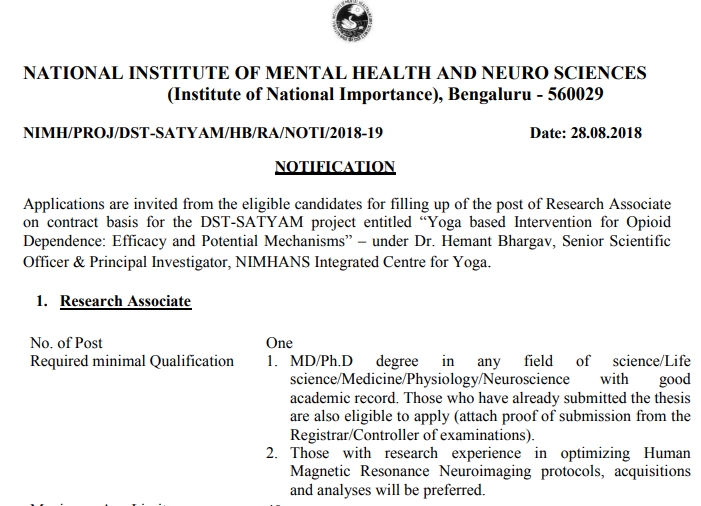 Besides, National Eligibility Test/ Graduate Aptitude Test in Engineering/ Joint Graduate Entrance Examination for Biology and Interdisciplinary Life Sciences (JGEEBILS)/ Indian Council of Medical Research (ICMR) qualified candidates will be given more preference while given a selection list. Along with the release of an official notification, Registrar has already affirmed on the fact that 10th September 2018 upto 04:00 PM is the last date and time to fill up the Application Forms along with the required documents. 
On the other hand, 30% HRA + Rs. 36,000 remuneration will be given to Research Associate having 40 years of the maximum age limit to apply online. Only when the appearing, eligible and volunteer candidates will give enough satisfactory performance in the job will have their career duration extended for 3 years. Or otherwise, initially, an appointment will be of six months only. 
Unlike in Yoga Therapist, in Research Associate Post, those with research experience in optimizing Human Magnetic Resonance Neuroimaging protocols, acquisitions and analyses will be preferred. Under Dr Hemant Bhargav, NIMHANS Integrated Centre for Yoga Senior Scientific Officer and Principal Investigator, a DST-SATYAM project named "Yoga-based intervention for Opioid Dependence: Efficiency and Potential Mechanisms" is going on for which this recruitment procedure is extremely mandatory.
For the latest news such as NIMHANS Field Assistant Recruitment 2018 and other state government jobs, please visit ALLINDIAROUNDUP for updates like below –