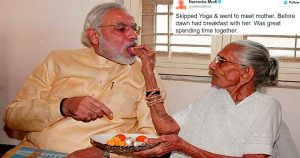 PM Narendra Modi Tweets On Meeting his Mother And Kejriwal Goes Crazy Over It, Ends Up Trolled
It appears like Delhi CM Arvind Kejriwal is leaving no stones unturned to target Modi Ji.
Earlier today, PM Narendra Modi tweeted on meeting his mother after a long time, Modi in his tweet mentioned that he skipped his Yoga sessions to have breakfast with his mother.
Skipped Yoga & went to meet mother. Before dawn had breakfast with her. Was great spending time together.

— Narendra Modi (@narendramodi) January 10, 2017
But someone didn't accept this simply, yeah! that's Arvind Kejriwal for you, the opportunity seeker. As soon as he acknowledged this meeting, he took on to his twitter handle and went shooting tweets on Modi.
Kejriwal pulled out the Hindu traditions saying that Modi must live with his wife and mother, Hiraba, a 97-year-old woman, who stays with his brother Pankaj Modi on the outskirts of Gandhinagar, the capital of Gujarat.
मैं अपनी माँ के साथ रहता हूँ, रोज़ उनका आशीर्वाद लेता हूँ लेकिन ढिंढोरा नहीं पीटता। मैं माँ को राजनीति के लिए बैंक की लाइन में भी नहीं लगाता https://t.co/CT243GCiaC

— Arvind Kejriwal (@ArvindKejriwal) January 10, 2017
हिंदू धर्म और भारतीय संस्कृति कहती है कि आपको अपनी बूढ़ी माँ और धर्मपत्नी को अपने साथ रखना चाहिए। PM आवास बहुत बड़ा है, थोड़ा दिल बड़ा कीजिए https://t.co/CT243GTTzc

— Arvind Kejriwal (@ArvindKejriwal) January 10, 2017
"I stay with my mother. I take her blessings every day but I don't boast about it. I don't make my mother stand in line for political gains. Hindu religion and Indian culture says you should make your aged mother and your wife stay with you. PM's residence is big, make your heart bigger" tweeted Arvind Kejriwal in his two separate tweets.
It is however known that not only the prime minister's mother, his brother, wife and the whole family is rarely seen in public. Hiraba was photographed when she visited a bank in Gandhinagar to deposit old bank notes post the Centre's demonetisation move, and Kejriwal pulled out a tweet out of this issue too (earlier).
मोदीजी ने राजनीति के लिए माँ को लाइन में लगा ठीक नहीं किया। कभी लाइन में लगना हो तो मैं ख़ुद लाइन में लगूँगा, माँ को लाइन में नहीं लगाउँगा pic.twitter.com/wEO1TYATO7

— Arvind Kejriwal (@ArvindKejriwal) November 15, 2016
As a part of an official cause, PM Modi visited the Gujarat city to inaugurate an international exchange and lay the foundation stone of the redevelopment of Gandhinagar railway station, might head back to Delhi today.
Past the today's meeting, PM Modi met his mother last in December 2016 when he came to Gujarat to inaugurate a string of projects. He had then addressed a rally in Deesa in Banaskantha district of Gujarat.
Responding to these tweets is never the job of Modi, but the netizens are all armed up to troll Kejriwal, similarly that's what had happened this time too.
Entitling the SAMOSA Bill:
लेकिन आप नेता सिर्फ मुफ्त का समोसा ठूंसने के लिए सत्ता में आयें है @ArvindKejriwal pic.twitter.com/3BnkmWh1Fr

— DynastyCrooks (@DynastyCrooks) January 10, 2017
This sounds too heavy to take:
😂😂😂 once a kutta, always a kutta!

— Siona Gogoi (@AtomicBlow) January 10, 2017
Someone just dug out the Kejriwal's tweets:
.@ArvindKejriwal Ye kya hai be? pic.twitter.com/0bCP2ICKXW

— Ishant Sharma (@CrimeMasterV2) January 10, 2017
On Arvind Kejriwal involving his mother in the election campaigns:
https://twitter.com/iAnkurSingh/status/818678730226798592