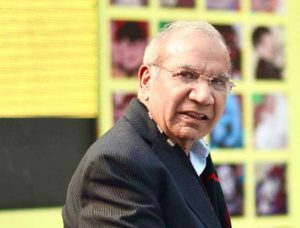 Pran Kumar Sharma, Creator of Indian Comics Chacha Chaudhary is No more
There was a time when no train journey would be complete without the favourite uncle, Chacha Chaudhary. Chacha Chaudhary, the venerable Jat tau, whose brain runs faster than a computer, first made his appearance amongst impressionable adolescents growing up in the late 60s in a Hindi magazine called Lotpot.
Pran Kumar Sharma, Creator of Chacha Chaudhary:
Such was the love for this old man that children and adults idolised him and his family – his dog Raaket, nagging Chachi, and faithful and brawny alien Sabu.In Chacha Chaudhary, teenagers found a superhero of their own, who till then had to make do with translations of Phantom or Batman. Rickety technology added with the quirks of the Indian middle class gave way to many more characters — Pinky, Billoo, Raaka — and, memorable stories.
His passing, on Wednesday morning, in a Gurgaon hospital at the age of 75, of cancer in the intestines, has robbed the Indian comic industry of an icon.It was the lacking of an Indian superhero that legendary cartoonist Pran wanted to address. And, in doing so, became the guiding light of the Indian comic industry.
His first comic Daabu was for Delhi-based newspaper Milaap; his second character Chacha Chaudhary was published exclusively by Diamond Comics since 1981.Born in Kasur in pre-Independence India, Pran Kumar Sharma pursued a distance learning course in Fine Arts from Mumbai's prestigious JJ School of Art
Cancer felled creator of Sabu :
Famous cartoonist Pran Kumar Sharma died at the age of 75 in Medanta hospital on Tuesday night.He had been suffering from lung cancer for the past three to four years, and was admitted in Medanta's ICU 10 days ago.The legendary cartoonist's condition began to deteriorate on Tuesday morning and he took his last breath at 9.15pm later that day.Sharma was born on August 15, 1938, in Kasur, Pakistan in undivided India, and started his carrier with monthly magazine Milap in 1960 with comic strip Dabboo, later working on more than 400 comics.Pran has always been associated with Chacha Chaudhary, a character "whose brain was faster than a computer" – which itself indicates how sharp Pran's mind was.A native of Naraina in Delhi, Pran's name was added in the Limca Book of Records in 1995 for drawing the famous character of Chacha Chaudhary, and he was even awarded with the Rajdhani Ratna in 1997.Pran's last rites were performed on Wednesday in the Capital.
Reactions:
Coach of Indian superman "Chacha Chaudhary " Pran Saheb is no more …my heartfelt condolence …..
—Mukhtar Abbas Naqvi
RIP Cartoonist Pran, creator of ChachaChaudhary.You enriched childhood of millions with your comic strips
—Sanjay Nirupam
Zaroor Jupiter mein koi jwalamukhi phata hoga! R.I.P pran sir. You were a big part of my childhood. Thank you.
—Raghu Ram
Feeling sad on demise Sri Pran famous Cartoonist, who created characters like Chacha Chaudhary etc. May thedeparted Soul rest in peace.
—Venkaiah Naidu
If you've never been exposed to a Chacha Chaudary comic and Pran's genius, take today, do some browsing and find one. You won't regret it.
—Virr Das
The man who gave us the legendary Chacha Chaudary is no more. This is clearly the end of an era. A true superstar; RIP Pran Sharma.
—Madhur Bhandarkar
RIP Pran. Thank You for all the smiles in the form of Chacha Chaudhary, Shrimatiji, Pinki, Billoo, Raman, and Channie Chachi.
—Aam Aadmi Party