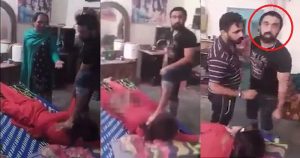 Watch: This Ruthless Man Beats Up A Woman With A Leather Belt, Social Media Is On Fire
This is the shocking moment a transgender woman was pinned down and viciously flogged by a gang of men in Pakistan as 'punishment for her bad habits'. According to reports, one of the transgender women identified as Jolie was present at the crime scene.
This footage shows the victim being held face down on a bed and a man lashing her body with a leather belt. The leader of the criminal gang flogged a transgender woman at her home in front of a few other people, who intervened to protect her. Later, posted a video of the abuse on social media.
According to reports, one of the transgender women Jolie was present at the crime scene shared the bitter experience. She said the gang members dragged them all out after flogging the victim and took them to another transgender woman's house.
She said the gang members barged into a house where several transgender women were living, beating and torturing one of them for several hours and shaving the heads of others. She alleged that the men forced them to drink their urine, raped them and beat them up with shoes.
Watch The Video Here:
https://www.youtube.com/watch?v=qVA7vpI203A
Pakistani police have arrested ten alleged members of a criminal gang accusing them of carrying out the attack and then uploading it on social media. Police chief Abid Khan said five of those arrested have been charged with torture and extortion, while the other five are under investigation.
The alleged gang leader, who identified himself as Jajja, told Dunya News that he was friends with the victim. The gang leader said: 'I was punishing him because he didn't refrain from his bad habits, which I pointed out to him several times."
What is your stand on the incident happen ? Is putting them in remand is sufficient ? Do share your views in the comment session below.
Also Watch: Toddler Shields Older Sister From 'Angry' Mom Is Going Viral