S/O Satyamurthy Movie Review, Rating – Trivikram Srinivas Magic didn't Work
"S/O Satyamurthy" is one of the most-awaited Telugu action entertainer movies of 2015. The film featuring Allu Arjun, Samantha, Adah Sharma and Nithya Menon are playing the main lead roles along with Kannada superstar Upendra in an important role in this movie. The movie is written and directed by Trivikram Srinivas produced by S. Radha Krishna under the banner Haarika & Haasine Creations. The music for the movie has been composed by Devi Sri Prasad. The movie Cinematography handled by Prasad Murella and Editing done by Prawin Pudi. The film is scheduled to release in theatres worldwide on 9th April 2015.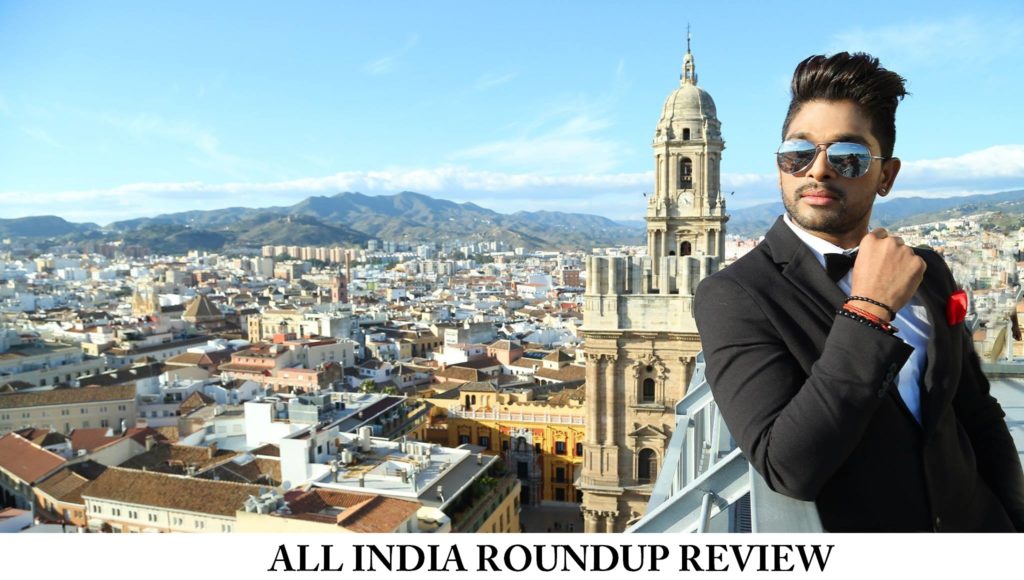 All India Roundup Rating: 2.5/5
What's Good in this Movie (Plus Points):
Allu Arjun's action
Cinematography
Production values
DSP's BGM
Few emotional scenes in the climax
Songs
Samantha
Upendra
Interval Before scenes
Small Twists
What's Bad in this Movie (Minus Points):
Direction
Flat second half
Editing
Dragged and slow narration
Improper use of star cast
S/O Satyamurthy Movie Cast & Crew:
Director : Trivikram Srinivas
Producer : S. Radha Krishna
Writter : Trivikram Srinivas
Starring :
Allu Arjun
Upendra
Prakash Raj
Rajendra Prasad
Samantha Ruth Prabhu
Sneha
Adah Sharma
Nithya Menen
Music : Devi Sri Prasad
Cinematography : Prasad Murella
Editor :  Prawin Pudi
Production company : Haarika & Hassine Creations
Distributer : Classic Entertainments
Release dates : 9 April 2015
Country : India
Language : Telugu
S/O Satyamurthy Movie Live Updates:
5:05 am: Title cards started with no background music and Movie is dedicated to Ms Narayana Garu
5:07 am: Movie entry with Allu Arjun's background voice
5:10 am: Best Dialogues in the opening
5:12 am: Prakash Raj is introduced as Satyamurthy . Especially Nanna-Puli story is very good.
5:20 am: Allu Arjun gets engaged to Adah Sharma
5:25 am: Movie picked up serious pace with Satyamurthy death
5:30 am: Allu Arjun's serious action added to the situation in dealing with people gave loans to Satyamurthy. Allu Arjun is forced to pay 300 Crores debts made by Prakash Raj
5:35 am: Vennela Kishore is shown as brother of Allu Arjun and he is as usual with his act on screen.
Dialogue: Nanna gaaru poyaaka sense of humor baaga taggipoyindi sir. Joke lu enjoy cheyyaleka potunnanu
5:40 am: Total family responsibility taken by Bunny…
5:55 am: Chal chalo chalo… Life se milo song begins of S/o Satyamurthy
Dialogue: Friend nu raaa… Pranam ivvaleka povachu … Partnership Istaanu.
6:00 am: Rao Ramesh 's act with Allu Arjun is alright and allu arjun imitating Omkar
6: 02 am: Samantha introduction
Dialogue: Party ki meeru raara? Taage vaallu raakapoina farvaledu… Posevaadu raakapote ela?
6: 10 am: Come to the Party Subbalaxmi song begins
6: 15 am: Love scenes between the leads are good, comedy is just okay
6: 17 am: Poor comedy and dragged scenes, so far okay
6:20 am : Before interval scenes are good, Upendra and bunny rocked
First Half is Completed, and the talk for first half is ok.
Second Half Begins: 
6:30 am: Upedra entrance
6:40 am: Fight seen is going on
6:43 am: Some serious scenes between Upendra and Allu Arjun
Dialogue: Manam baavunnappudu lekkalu maatlaadi… Kashtallo unnappudu viluvalu maatlaada koodadu sir.
6:45 am:Rao Ramesh and MS Subramanyam's sentimemt is high and quite toching
6:50 am: Ragging scenes between Nitya Menon and Samantha are funny
7:00 am: Jaldi Jaruoo Song begins
Dialogue: Manalanu kaavalanukunna Ammai Vaste Ela Vuntundo teliyadukaani.. Manalanu vaddu anna ammayyi vaste…Chaalaa high vuntundi. 
7:08 am: comedy scene is going on
7:10 am: Movie going into some serious mode with Allu Arjun serious dialogues
7:15 am: Climax fight scene
7:25 am: Movie completed giving importance to family and father role.
Slow peace but goal achievement, Comedy, Sentiment scenes, Songs, Fights and Climax are the Hilights.
S/O Satyamurthy Movie Story Line:
S/O Satyamurthy"movie story revolves around the kind-hearted rich man, who loses everything to help people around him. Finally, he departs from his loved ones, leaving behind huge debt. His son turns as wedding planner and clears all his debts. The young wedding planner meets a girl at an event and he falls in love. But when he meets the girl's father, the latter assigns him the task of bringing some disputed property documents from the factional leader if he wants to marry his daughter. The story takes an interesting twist here, when the guy meets the target. What happens next will form the crux of the story.
Stylish star Allu Arjun reportedly plays the wedding planner, while Prakash Raj is his rich father. Samantha has played Bunny's love interest, while Rajendra Prasad essays the role of her father. Kannada actor Upendra has reprised the role of the factional leader. Nithya Menon and Adah Sharma have essay key roles in the movie.
S/O Satyamurthy Movie Complete Review and Rating:
Stylish star Allu Arjun's most awaited movie S/O Satyamurthy. The movie starring Allu Arjun and Samantha in main lead roles while Adah Sharma, Nithya Menen and Kannada superstar Upendra in other important role in this movie. Allu Arjun Played the wedding planner Role in this Movie while Prakash Raj will play a title name Satyamurthy in S/O Satyamurthy Movie. All the lead characters in this movie has done pretty much good performance for this movie. The Trailer and Songs of this movie has received a great review from the audience and even from the film critics. As we all know that the film was officially launched on 10th April 2014 at Ramanaidu Studios in Hyderabad. The principal photography commenced on 22nd September 2014 at Hyderabad. The songs of this movie are topping the charts, especially Super Machi song became familiar among masses.The film makers have invested huge amounts on this film, being first summer biggie to hit the Box Office. As this movie consists of large number of starring the film the expectations set to be very high.
S/O Satyamurthy Movie Trailer Review:
S/O Satyamurthy has received a garnered mixed reviews from the audience. The film makers of "S/O Satyamurthy" released its theatrical trailer at the grand audio launch on March 15th 2015 and the film was officially launched on 10th April 2014 at Ramanaidu Studios in Hyderabad.
S/O Satyamurthy movie official trailer has been viewed more than 1,767,973 times in less than 12 hours of its release on YouTube. It has garnered 7,776 thumbs up, 863 thumbs down and more than 1,148 comments. Viewers are impressed with the making of the film.
S/O Satyamurthy Movie Technical Aspects :
Temper movie is directed by Trivikram Srinivas who is one of the most talented and popular director and his movies are always different from other movies. This movie must be good because of the director of this movie and also because of large number of Starrings in this movie. S/o Satyamurthy critics review rating, Story, Dialogues,Performance, Technical, Plus Points, Minus Points, Final Talk will be updated soon.
S/O Satyamurthy Movie Music Review:
Devi Sri Prasad have given the music and Background Score for this S/O Satyamurthy movie . Songs of this movie are hugely popular among the audience, especially Super Machi song became familiar among masses and we must say it's a job well done by the music director of this movie. The Cinematgrapher of this movie is handled by Prasad Murella and editing is done by Prawin Pudi.
All India Roundup Rating: 2.5/5
Final Word:
First half is passable while second half falls flat, Trivikram's half baked direction and improper utilization of star cast make it just one time watch movie. It's a family entertainer can go with family members.
Click here to Listen S/O Satyamurthy Jukebox Online
Stay tuned with us for S/O Satyamurthy Review, Rating and Box office collections. Press CTRL+D right now to bookmark this page.