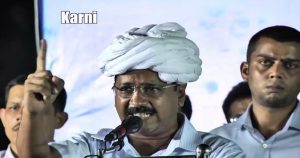 This Spoof Video Of Arvind Kejriwal And PM Modi Singing Bollywood Party Song 'Abhi Toh Party Shuru Hui Hai' Is Going Viral
With the series of videos coming after one another, this Facebook channel 'Waah Modi ji Waah' is now gaining tremendous popularity day by day. After the humorous videos of 'PM Modi dancing and singing' and Baba Ramdev's 'Weed Energy 2017' compilation, this page has now come up with a new video.
The video is entitled as 'Abhi Toh party Shuru Hui Hai ft. ARVIND KEJRIWAL & NARENDRA MODI', in which Chief Minister Arvind Kejriwal is on high pace of his voice with undoubtedly sinking expressions.
The music compilation, picking up the precise words and the Modi's voice and laughing is something that made the video incredibly unique and funny.
This video is released after 24 hours of the 'Weed Energy 2017′ one, it has already garnered enough popularity on social media. The Donald Trump's signature 'Wah' is something that appears like it'll remain forever.
Watch The Video Here:
This video now attracted huge crowd across the country hitting more than 760K+ views.
Related Articles: