Suresh Raina to Marry Priyanka Chaudhary After ICC World Cup 2015
Indian Crickets blazing reliable batsman Suresh Raina is going to be tied with matrimonial knots after the ICC Cricket World Cup 2015 as per the latest news from is closed sources. Suresh Raina's name is widely speculated in the Indian cricket team these days due to various reasons first is his batting form and second is his Marriage news with Priyanka Chaudhary. The wedding couple is going to be married soon in Netherlands. This crispy news of Suresh Raina jas left his fans to hold on for much awaiting eagerly official announcement from the closed sources of Suresh Raina. On the other hand fans of Suresh Raina and Indian cricket team are willing to much about bride Priyanka Chaudhary seeking for some other romantic information too between them.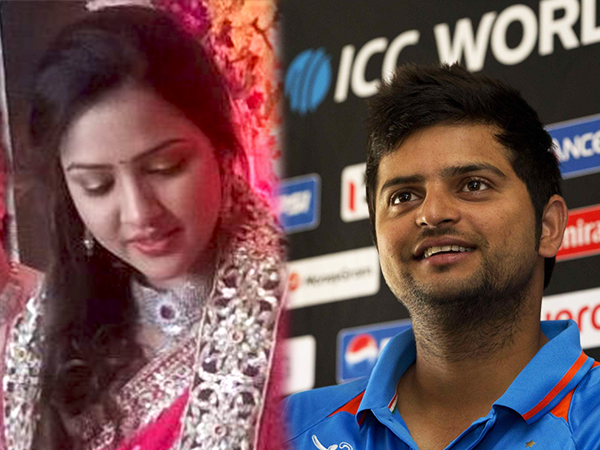 Suresh Raina's Wife Priyanka Chaudhary Details, Pics, Images, Weddding Date:
The couples of images haven't been disclosed to the common people while it widely speculated the official announcement would be made after the ICC Cricket World Cup 2015 and the wedding would take place during the initial week of April, 2015. Raina's father and Priyanka's father have been colleagues at the Muradnagar ordinance factory. "They know each other from a long time, but it's been six months since both of them have been serious about the relationship," a source said.
Suresh Raina Marriage Date:
Suresh Raina's family members reported that their marriage ceremony is fixed. Suresh Raina will marry the daughter who is his mother's friend. Close sources of the Suresh Raina and Priyanka Chaudhary claim that both are childhood friends and have solid family friendship relations too bonded their relation too. Their close relationship of friendship turned out to as and all well wishers of Raina are getting eager about the Marriage Schedule, day , date and hoping that Raina will be provide a return gift of World cup 2015 to all his fans. Raina going to marry his childhood friend Priyanka Chaudhary on April 3rd, 2015 after coming from ICC World Cup 2015.
Suresh Raina's Fiance Priyanka Chaudhary Personal Details:
Name of the Bride: Priyanka Chaudhary
Birde Nationality: Indian
Marriage venue: Lucknow
Resides @: Meerut Sushant city, Lucknow.
Birde's Siblings: Two Brothers ( Both Engineers)
Type of Marriage: Arrange
Birde's Occupation: Job
Marriage Schedule: April
Wedding ceremony has been fixed on 3rd April by the family members. Because of the busy schedule of the Indian Premiere League (IPL) will be operational. Suresh Raina is going to start a new innings of his life with Priyanka Chaudhary and their marriage is speculated take place few days prior to the Indian Premier League (IPL) and a special reception will be held at a his farmhouse in Delhi on April 8. It's an anxious news thus what all we can do is to wait hold back for few more days for the official announcement. All India Round Up wishes Suresh Raina, his family and all his fans of Indian cricket team its best wishes.
Stay tuned to allindiaroundup.com for more update. Press CTRL+D to bookmark this page right now.