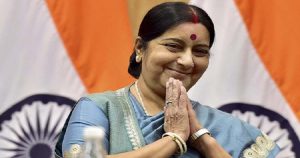 Here's How Sushma Swaraj Proved ONCE AGAIN That 'There Is No Minister Like Her!'
External Affairs Minister Sushma Swaraj, once again proves herself that there is no Minister like her. In a desert of gloom and doom, she is like the pot of water for the needy.
Since Sushma Swaraj entered her office, her service has made no discrimination when it comes to helping to the people. She has been proving herself and carving by creating a neat impression that all the politicians are not bad, after all.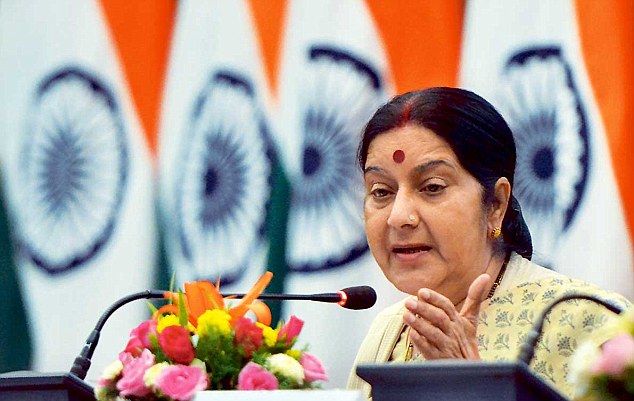 In a land where there is a dearth of good politicians, Sushma Swaraj is a whiff of fresh air. That is why people in need jump to Twitter and let her know about their problems.
In a recent incident, Sushma Swaraj has politely responded to a visa request by an Indian man for his Pakistani wife. He tweeted:
@SushmaSwaraj iam indian citizen my wife is pakistani we leave in dubai need indian visa to treat my son who is special child applied sep

— Yasin (@Yasin595) October 26, 2016
Getting no useful response, he again tweeted and sought help fervently.
iam struggling to get medical attendance visa for my wife who is pakistani, to get treatment for my child in Mumbai

— Yasin (@Yasin595) November 4, 2016
Thus, this time, Sushma was so quick to jump to the rescue of this man.
Where have you applied for Indian visa for your Pakistani wife ? Also pl give details of your child's treatment in Mumbai ? https://t.co/K3NBni6zAB

— Sushma Swaraj (@SushmaSwaraj) November 4, 2016
His child is an autistic patient and required special attention.
applied at dubai consulate, stem cell treatment at mumbai, NEUROGEN brain & spine institute, it's for autism patient.

— Yasin (@Yasin595) November 4, 2016
While the minister hasn't responded to this yet, but we hope that she will provide her best.
In another incident, the minister lent support to an Indian man whose son is admitted in the Ukraine hospital for the last ten days and is in the coma.
@SushmaSwaraj My son suffering pneumonia coma from 10days,pls help me provide visa urgently to visit my son in zaprozhye hospital,ukraine. pic.twitter.com/2VbxdUA6tC

— Namuduri Venkata Rao (@nvrao61) November 4, 2016
He asked for Sushma Swaraj's help:
pls return my son suffering from pneumonia in zaprozhye university serious condition to india providing better treatment moral support. pic.twitter.com/YQ0ks3TM0t

— Namuduri Venkata Rao (@nvrao61) November 4, 2016
Sushma pledged to support him:
My office will contact you. I pray for early recovery of your son. https://t.co/5gzVsiCkHU

— Sushma Swaraj (@SushmaSwaraj) November 4, 2016
This is how Sushma Swaraj is making her job comfortable by solving and responding to the people's problems.