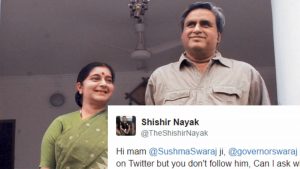 Sushma Swaraj's Husband Gives A Romantic Reply When Asked Why She Isn't Following Him On Twitter
External Affairs Minister Sushma Swaraj has been famous for her prompt replies to the people in need on Twitter. She always comes forward to solve impossible problems as soon as possible even within minutes.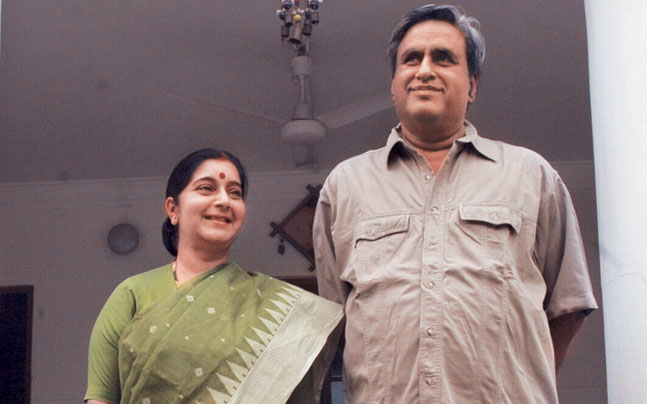 Sometimes, Sushma Swaraj also gives witty and intelligent replies. We had seen many cases where people ask bizarre questions on Twitter and Sushma Swaraj handles them carefully and humorously.
On Sunday, she was trending on Twitter, but for a different reason. It seems that even her husband Swaraj Kaushal, who is the former governor of Mizoram, is also equally witty as her.
A Twitter user asked Sushma Swaraj why she doesn't follow her husband even though he follows her on Twitter. The user tagged both Sushma Swaraj and Swaraj Kaushal in the tweet.
Hi mam @SushmaSwaraj ji, @governorswaraj is following you on Twitter but you don't follow him, Can I ask why with all respect?

— Shishir Nayak (@TheShishirNayak) September 4, 2016
Everyone expected Sushma Swaraj to give a prompt reply, but it was her husband who gave a reply in his own way in a funny way. After some time, the tweet was deleted by him.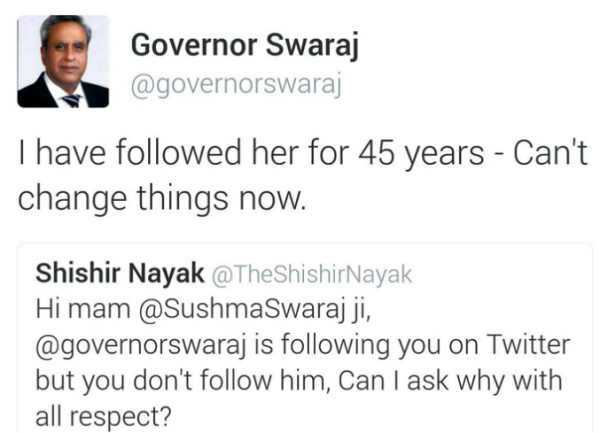 This is one of the romantic replies, isn't it? What do you say about this incident? Share your views in the comments section below.