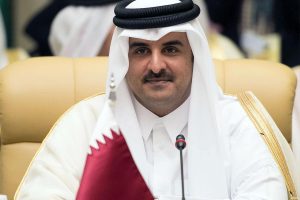 Syrian Crisis: Emir Of Qatar On Russia Visit To Discuss Situation
Moscow, Russia – Tamim bin Hamad Al Thani, the Qatari Emir, is on a short official visit in Moscow. He arrived here on Sunday evening to meet Russian President Vladimir Putin to discuss the war situation going in Syria and Yemen and also the crisis in Palestine.
The occasion of his visit comes amid a massive evacuation of civilians and fighters from Easter Ghouta. Eastern Ghouta is region very close to Syrian capital Damascus. The evacuation process was started after Russia negotiated with rebel groups to clear the area for opposition controlled Idlib province.
According to Dmitry Frolovsky, a Moscow-based analyst, Russian President Putin and Sheikh Tamim will hold meeting to discuss Russia's position on Syrian President Bashar al-Assad, Qatar's lending of support for the opposition, and also to seek the possibility of participation of Qatar in post-conflict reconstruction of Syria.
"There is going to be division of Syria and obviously the most powerful parties in Syria will be Russia and the United States. Qatar for various reasons will try to maintain stable contacts with both of the parties," Frolovsky said.
Russia, recently tried to pacify the war situation in Syria by holding a state sponsored peace conference in Sochi which failed to bring both the sides of Syrian regime and opposition forces for talks. And in a short period of time, Assad who had the backing of Russian air support started an operation against rebel-held Eastern Ghouta.
According to Frolovsky, if the regime takes full control of the Damascus suburbs and nearby areas another military operation by them against rebel-held Idlib province is likely.
The visit by Qatari Sheikh Tamim was preceded by several phone calls between Putin and Abu Dhabi Prince Mohammed bin Zayed in early March and Saudi King Salman in February. In the last year during the month of October the Saudi king paid a three-day visit to Moscow.
"It's not only the [Gulf] crisis that boosted the relations [with Gulf countries] but also the general Russian presence in the region which has been augmenting since Putin took part in the Syrian crisis," Frolovsky said.
Russia's stance over the Gulf crisis is neutral and despite that it did not help Qatar with any food or important supplies last year, he added.
Shiekh Tamim of Qatar was accompanied by a delegation of Qatari ministers of finance, foreign relations, energy, and culture, along with a number of other officials.
Alongside the official meetings in Russia, Qatar Petroleum and state-controlled Russian oil company Rosneft are also expected to discuss possible contracts to be signed, and Qatar Airways will also sign a cooperation agreement with Rosaviatsia, Russia's federal air transport agency.
Prior to this meet, five days before his official visit to Moscow, Sheikh Tamim held a meeting with Ukrainian President Petro Poroshenko in Qatar where they discussed in detail the possible export of Qatari liquified gas to Ukraine.
Eversince the fallout with Moscow due to the annexation of Crimea and also the war in the Donbass region, Kiev has been consistently trying to decrease its dependence on Russian oil and gas imports.
The Qatari Shiekh is scheduled to pay a visit to the United States where a meeting is scheduled to be held with US President Donald Trump.
You May Also Read: Will The New Bolton-Pompeo Chemistry Change US-Asia Policy?