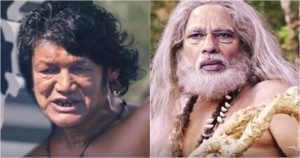 This Hilarious Bahubali Video Featuring Harish Rawat, Narendra Modi & Amit Shah Will Leave You In Splits
The major portions of the Northern India are now deeply swinging around the upcoming assembly elections. Graphical photographs, videos and photo-shopped images are on cards in a bid to encourage people towards voting their beloved political parties.
In between the heaps full of videos and posts on social media, here is the video entitled 'Saviour' which is barely a spoof of the legendary social fantasy movie 'Bahubali'. The video depicts Congress' leader Harish Rawat in the place of Prabhas, and PM Narendra Modi. his advisor Amit Shah in other prominent roles.
This video is currently trending on social media. The rational depiction of Harish Rawat on holding the huge responsibilities of Uttarakhand is reflected in the video in the way he lifts the Uttarakhand state.
Coming to the details, the video has been edited from the scene from the movie in which Baahubali uproots the gigantic Shiva statue and carries it for his mother, thus showing his devotion and strength in one go, which quite linearly sinks.
This video was uploaded by the Facebook page UP/UK Live, now has more than 430,000+ views within a short span of two days along with 8000+ shares.
When asked about the video, Harish Rawat responded that he has no idea of this video, further he quoted himself as "I am a servant of Uttarakhand" rather than the saviour of Uttarakhand which was mentioned in the video.