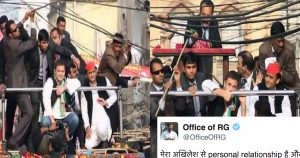 Twitter Goes Crazy Over Rahul Gandhi's 'Personal Relationship With Akhilesh' Tweet
Here came an another moment, when Congress' supremo Rahul Gandhi is left embarrassed. This 46 Years Old Congress' Vice President recently tweeted about his relationship with Akhilesh Yadav.
Both Samajwadi and Congress party were rivals since the beginning and the duo unified now in order to clinch the upcoming elections, this resulted in netizens trolling both Akhilesh and Rahul, despite these issues, now Rahul Gandhi simply left one more stone unturned by tweeting a twisting sentence, he tweeted:
मेरा अखिलेश से personal relationship है और political relationship भी है। आज ये साझेदारी और गहरी हुई है

— Office of RG (@OfficeOfRG) January 29, 2017
It is well known that the popular politicians Rahul Gandhi and AAP's leader Arvind Kejriwal have always been scapegoats for Internet trolls, but what Rahul now did is quite beyond saving him. Netizens took a huge benefit from this tweet ended up trolling both of them blue and black.
So, here is the set of comments people made:
personal relationship मतलब करण जहोर वाला

— ऊँगलीमाल डाकू 👆👈🖕👉☝✌🖖 (@kishanjha3) January 29, 2017
https://twitter.com/I_am_Singh1/status/825633278866649088
At the joint press conference in Lucknow, Rahul Gandhi #PappuBole said he has #PersonalRelations with @yadavakhilesh pic.twitter.com/En8tbPjNTP

— Bharat Sanghvi ☕चायवाला☕ (@rajamaka) January 29, 2017
#PeoplesLeader Rahul wins hearts building partnerships and bonding w masses unlike divisive dictator Modi @OfficeOfRG #UPKoYeSaathPasandHai

— TinaRG (@hiindustanii) January 29, 2017
ji Sir…. pic.twitter.com/O9zyfYwog2

— RAUF LALA=हिन्दू ह्दय सम्राट (@sanjay2117kumar) January 29, 2017
And some took it far more seriously,
ये वाला रिलेशन pic.twitter.com/ZmmnOGBs7t

— Jitendra pratap singh (@jpsin1) January 30, 2017
— सतपाल सिंह(सतु सिंह) (@GSatusingh) January 29, 2017