Twitterati Reacts Hilariously About Arvind Kejriwal's Meeting With Actor Irrfan Khan
A few days ago, Bollywood actor Irrfan Khan tweeted to Delhi Chief Minister Arvind Kejriwal, Vice President of Indian National Congress Party Rahul Gandhi, and Prime Minister Narendra Modi for an appointment to meet them and ask a few questions.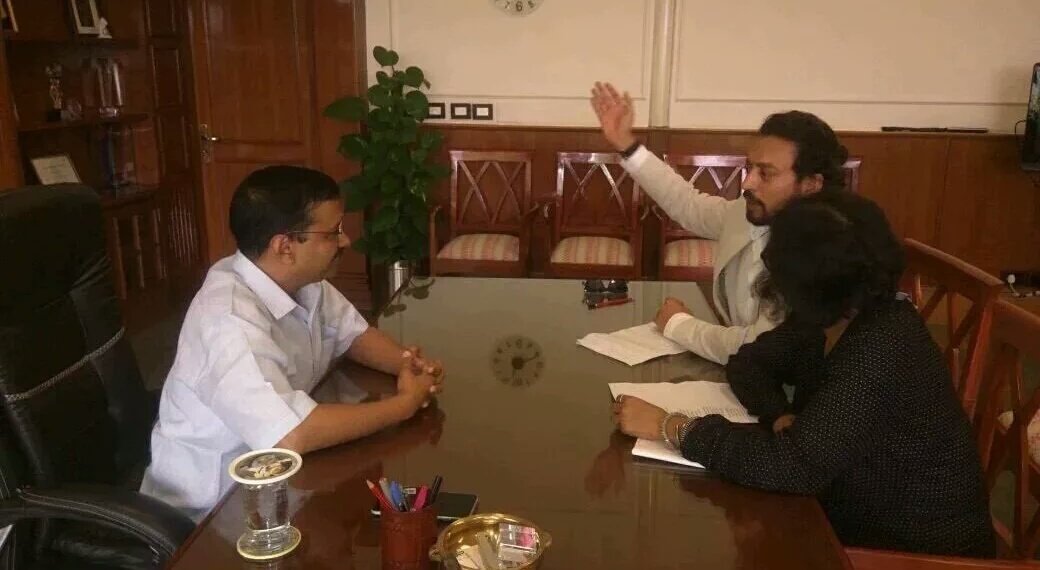 However, Arvind Kejriwal and Rahul Gandhi agreed and gave Irrfan their appointments. Whereas, Irrfan Khan got a reply from PMO India saying that the Prime Minister was busy.
Upon his appointment, Irrfan Khan met Delhi CM Arvind Kejriwal on Tuesday at 11 AM. Apparently, Irrfan asked him questions as an 'Aam Admi' about nation's political system and freedom of expression.
Though it seems like the promotion of his upcoming film 'Madaari', the pictures of both Kejriwal and Irrfan have gone viral on social media with Twitterati giving them hilarious taglines and comments.
Hilarious Twitterati Reactions:
Kejriwal attends an invite only one day acting workshop by Irfan Khan to fine-tune his acting skills #GuruPurnima pic.twitter.com/MyoiziXaA2

— Irrational_Chap (@Irrational_Chap) July 19, 2016
Irfan: Woh sala guard mujhse BULB me discount maang raha tha.
Kejriwal:Ashutosh ki baat ka bura mat maaniye pic.twitter.com/XMDdeeesmP

— Arnab Goswamy (@the_sashiks) July 19, 2016
@ani_news Irfan requesting Kejriwal sir "please review my movie also" .

— अमरेश आनन्द झा (@amaresh4) July 19, 2016
@ANI_news AB Irfan Khan ki movue ko accha review mil jayega or best delhi movie ho jayegi. Ab acting me bhi sudhar aayega kejru se sikh kar.

— L Sapra (@Sapra_L) July 19, 2016
@ANI_news Irfar khan AK se acting class lete hue

— नाश्त्रेदमस्त (@NastreTheMust) July 19, 2016
Irfan: movies dekhne ka time mil jata hai?
Kejriwal: khaali hi baitha rehta hun, saare kaam toh Modi ji karte hain pic.twitter.com/ZQZVmFC1e5

— Mojo (@Singhlicious) July 19, 2016
Irrfan: Aaj kise gaali deni hai yeh aap kaise decide karte ho ?
Kejriwal: Toss karke, sikke ke dono side Modi hai ji pic.twitter.com/IZl3Mj6rVi

— The-Lying-Lama ☔️ (@KyaUkhaadLega) July 19, 2016
Kejriwal: madaari ki free ticket de na
Irfan: talk to my hand pic.twitter.com/EOQLz3Hks3

— maithun ☔️ (@Being_Humor) July 19, 2016
Irrfan: Sir mere Haath ki Rekhaein Padh ke bataiye kuch

Kejriwal: Sab Mili hui hain ji pic.twitter.com/9L5pXn2ptW

— Censored News India (@censorednewsIn) July 19, 2016
Irrfan taking real like method acting lessons from Kejriwal for his upcoming role of Hyena in life of PIE part 2. pic.twitter.com/mRUqYjeIcm

— Innov8 (@pliersnwires) July 19, 2016
Also Watch: Narendra Modi Gives Arvind Kejriwal Awkward Handshake At Council Meeting