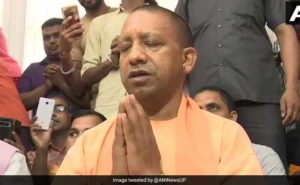 UP Chief Minster Yogi Adityanath Banned From Campaigning By The Election Commission Stays In The Limelight While Visiting The Hanuman Setu Temple In Lucknow
UP CM Yogi Adityanath has been banned by the Election Commission from campaigning for 72 hours starting today.
During his visit to The Hanuman Setu temple in Lucknow, he stayed in the limelight and did not speak to any media personnel.
CM Yogi has been asked to avoid rallies and public speeches.
For the first day of his ban, CM Yogi decided to visit the Hanuman Setu Temple in Lucknow.
The temple is famous and is visited by many known politicians during the elections.
CM Yogi Adityanath was filmed inside the temple, he was seen folding his hands and praying.
The CM did not speak to any media personnel.
The BJP said that the visit to the temple was more like a "personal visit" for CM Yogi and was not part of their electoral campaign.
CM Yogi Adityanath recently made a divisive comment during a rally, he said, "If the Congress, the Samajwadi Party, and the BSP have faith in Ali, then we too have faith in Bajrang Bali".