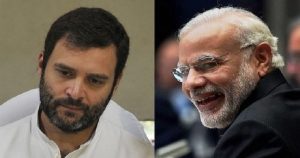 PM Modi Takes A Dig At Rahul Gandhi, Depicts Him As The Reason Behind The Earthquake
What happens in general, If Rahul Gandhi makes some creative statement?
Well! there are absolutely rare occasions without Rahul ending up not getting trolled or criticised. But when it comes to trolling him, the first person that comes to our mind will be the Prime Minister Narendra Modi.
Despite being an able Prime Minister, Modi has some extensive sense of humour which he uses peculiarly for the Congress' Vice President Rahul Gandhi.
Following Modi & Akhilesh Yadav, Rahul Gandhi Now Has Acronym For 'SCAM' And Twitterati Trolled It In An Epic Way
Recently here came a moment when the lead political heads started off announcing their versions of 'SCAM'.
This brand new acronym ideology started with Modi detailing SCAM as "S for Samajwadi (party), C for Congress, A for Akhilesh (Yadav) and M for Mayawati".
Countering the Modi's version, then Chief Minister of Uttar Pradesh, Akhilesh Yadav described his version with "Save the country from Amit Shah and Modi".
It appears that the logs were balanced here, but here came the Congressman Rahul Gandhi with his version, which is absolutely irony to the Congress' political history itself, reading "S stands for 'service', C for 'courage', A for 'ability' and M for 'modesty'.
मेरे अनुसार SCAM का मतलब है:
Service गरीब लोगों की
Courage सच बोलने का
Ability वादे पूरे करने की
Modesty कि सब में कुछ न कुछ कमी होती है

— Office of RG (@OfficeOfRG) February 5, 2017
Though Rahul was extensively trolled on Social Media, Modi didn't resist himself from trolling Rahul Gandhi. He humorously linked Rahul's version of SCAM as the reason behind the recent earthquake in the Northern India.
Watch The Video Here:
Related Articles:
Following Modi & Akhilesh Yadav, Rahul Gandhi Now Has Acronym For 'SCAM' And Twitterati Trolled It In An Epic Way