This Minister Of Modi Govt Mocked Swachh Bharat Abhiyaan By Urinating In Public!
Right after becoming the Prime Minister of India, Narendra Modi has started various reforms on all kinds of aspects, be it in the state of democracy or be it about the environment. As we all know his Swachh Bharat Abhiyan is an attempt to clean up cities and villages and it is heartening to see people taking it seriously and helping out genuinely in the effort since recent times.
To keep India clean, Modi Ji has taken this movement very seriously and also given strict regulations asking all his ministers and leaders to promote it in their constituencies.
Apart from the government, it's our own duty as a responsible citizen to take part in the movement and help spread awareness. Mainly, we should try to stop open defecation and for this purpose, the government is not only building toilets but also making people aware of the harmful effects of open defecation.
However, Union Minister Radha Mohan Singh is seen mocking his own government's campaign by urinating in public. Yes, a photo of him when he was peeing on the wall of a building in public area is going viral on the internet today. The time, date and location where the picture was taken are not yet clear.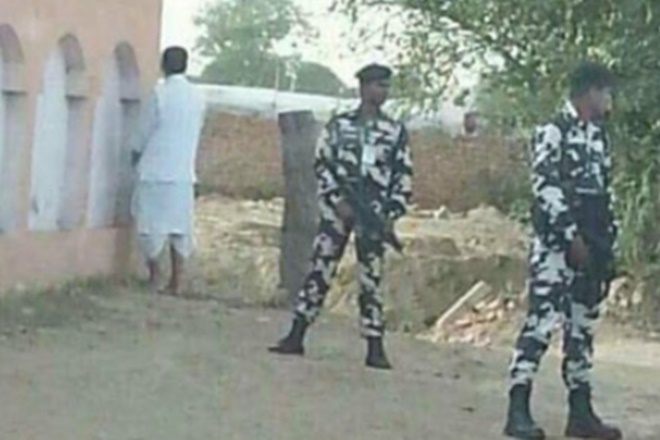 The Rashtriya Janata Dal (RJD) Twitter handle on Thursday shared undated images of Radha Mohan urinating against a wall as his security guards were looking at the opposite side.
कड़ी सुरक्षा के बीच केंद्रीय कृषि मंत्री सुखाड प्रभावित क्षेत्र मे सिंचाई योजना की शुरुआत करते हुए। उन्होंने स्वच्छ भारत अभियान को भी गति दी pic.twitter.com/BLbkpO8BPz

— Rashtriya Janata Dal (@RJDforIndia) June 28, 2017
If this pic is actually of Radha Mohan Singh, then this is a serious issue because if a leader himself doesn't take the cleanliness campaign seriously, how will he promote it?
The photo has been retweeted by Delhi's deputy CM Manish Sisodia and he has dared the media houses to hold a debate on this matter.
गोदी मीडिया का कोई पत्रकार इस पर टीवी बहस कराएगा- लालबत्ती वाली गाड़ी से उतरकर दीवार के किनारे खुले में … है किसी में हिम्मत? https://t.co/mtYjSOF2qb

— Manish Sisodia (@msisodia) June 29, 2017
Later, here's how Twitterati reacted on this incident:
This user took a dig at Delhi CM Arvind Kejriwal:
https://twitter.com/RNGURUDATH/status/880281308349341697
A jibe at media!
Jab Mantri hi ye karenge to Janta se kya asha hogi.

— Mahendra Sharma (@mahendra1953195) June 29, 2017
What to expect from public now?
Jab Mantri hi ye karenge to Janta se kya asha hogi.

— Mahendra Sharma (@mahendra1953195) June 29, 2017
Meanwhile Sambit Patra:
Wahan paani ki kami thee isliye Mantri ji mutr visarjan ke davara safai kar rahe the – Sambit Patra

— Gurvinder Gaba (@GurvinderGaba) June 29, 2017
There you are!
राधा मोहन जी को शुगर मधुमेह है उनकी मजबूरी को समझो उनका दिली इक्षा नहीँ था हृदय से स्वक्ष भारत के पक्ष में है

— महेंद्र वर्मा (@MAHENDRATVERMA) June 29, 2017
Right though 😛
भैया जब प्रेशर आवत है लघुशंका तो गंगा कसम कुछो समझ में नहीं आवत।

— subhash chandra jha (@scj2care) June 29, 2017
Much difference between what they say and what they actually do!
असली संघी की पहचान यही है कहो कुछ करो कुछ

— R. P. Singh (@rpsinghraipur) June 29, 2017
LOL 😀
bihar me sichai yojna ki suruwat kar raha hai

— Tanwir ahmad (@Tanwirahmad0786) June 29, 2017
Saheb ke Swakshta Abhiyan par barish karte hue mantri ji

— rahul ranjan (@rahutrue) June 29, 2017
Gow-Mutra pavitra, Mantri-Mutra bhi Pavitra!

— DM (@dm_india) June 29, 2017
It's shameful!
Pradhan mantri ji ke swachh mission ko nicha dikhane ki koshish unke hi mantri dwara sharmnak hai ye

— vishu verma (@vvishu736) June 29, 2017
A valid point!
This is BJP's commitment to #SwachhBharat
Agriculture Minister, @RadhamohanBJP https://t.co/DdVLwLwNZ6

— Congress (@INCIndia) June 29, 2017
We have heard that Modi has finished 'Laal Batti' culture. What is this Mitron?? @RadhamohanBJP 😬😬 pic.twitter.com/I16GbgsPPo

— Kapil (@kapsology) June 29, 2017
Ministry of Drinking Water and Sanitation started a campaign 'Darwaza Band' on May 30, 2017, to promote the use of the toilet. Even World Bank supported this campaign which has been started all across the country. The ministry issued a statement which read, "It is designed to encourage behavior change in men who have toilets but are not using them."
We are waiting to see the reaction of BJP on this matter.
By the way keeping the country clean is not just one person's job. We all need to join hands and take responsibility to keep our country clean.
What do you say about this? Let us know your views in the comments section below.