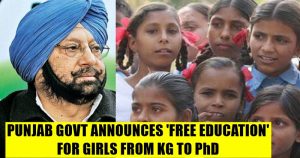 Punjab Congress Govt Wins Hearts By Announcing 'FREE EDUCATION' For Girls From Nursery To PhD!
Putting aside the biased favor on either BJP or Congress parties, if we take a look at Punjab state, it is standing as an ideal for other states of the country with people beneficiary schemes, educationals reforms, loan waivers and other special plans. This will definitely bridge the gap between common man and ministers to some extent, don't you think so?
All credits to the Congress elected Captain Amarinder Singh, the Chief Minister of the Punjab who has taken some wonderful steps and ensured that the decisions are implemented on the ground level as well.
It has been barely few months and Captain Ji has already embedded many new schemes that are transparently helping for the betterment of the state. Firstly, he said no to VIP culture by banning red beacon lights on vehicles in the state, then waived off loans for the farmers and now, has announced free education for girls.
This announcement was made by the CM himself on Monday in the Vidhan Sabha. Not only this, he also said that free textbooks will be offered to students in government schools. These textbooks will be available online and parents and students can download them for free.
Stressing on education, the CM said that even though the resources are limited, utmost attention would be paid to the education sector. Also, they aim to increase the education sector budget. Even CM Ji promised said that they have plans of providing free Wi-Fi facility to 13,000 primary schools along with 48 government colleges.
In this plan, 5 new colleges will be built this year itself. Captain Amarinder Singh said that this would bridge gap between rich people who get all facilities and poor people, who crave to get more and more resources.
Apart from this, reports say,
"The government also has plans to offer English as a medium of instruction in government schools. To do this, initially, two schools at all levels from every block will have English medium from July."
Must say, it's a wonderful step taken by Captain Amarinder Singh. Punjab will reach new levels if education sector gets this boost. Moreover, free education for girls is what all states should follow.