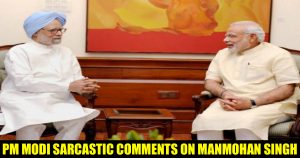 PM Modi Now Showers Satires On His Predecessor Manmohan Singh Quotes Him 'Wearing Raincoat In Bathroom', Now Twitter Can't Resist Cracking Raincoat Jokes
After the 2014 grand election campaign, demonetization amendments, Uri attacks and everything Modi did in these 2+ years, one can undoubtedly say that 'Never mess with Prime Minister Narendra Modi. He baited all the current political leaders with his witty words and straight opinions.
Be it, Rahul Gandhi, be it, Mamta Banerjee or Akhilesh Yadav, Modi often uses right acronyms, one-liners and bright points when he aims to slam his opponent. However, till now he has been rightfully blaming the Congress party for all the things the party failed to do in these many decades. Despite taking a dig at all other politicians, Modi till now didn't say anything about former Prime Minister Manmohan Singh.
Here came a moment, somehow the topic of Political and Social instability during the reign of Congress was on the table and this time Modi didn't hesitate to criticise Manmohan Singh.
While describing then situation, Modi took a move forward went saying, "Even though many scams took place in the country, Singh's image remained clean."
Further added, "People should learn from Dr Singh how to bathe in a bathroom wearing a raincoat."
His words in RajyaSabha are however condemned by the Congress leaders, they immediately staged a walkout urging Modi to apologise as quickly as possible. The party further termed Modi's words in Rajya Sabha as "extremely poor" in taste and "unbecoming of a Prime Minister."
On the other hand, Twitter doesn't give a shit about these things, what all netizens need to survive is making fun out of anything, and yes! they did it this time too and the tweets were quite funny, read them below:
Modi stole that Bathroom and Raincoat wala Joke from this man.
😢 pic.twitter.com/XO8R4HLT1u

— The Frustrated Indian (@FrustIndian) February 8, 2017
Manmohan Singh caught bathing with raincoat on after Modi's speech in #RajyaSabha#JaahilPMModi pic.twitter.com/kNzjSlTkA7

— Gautam (@gautyou) February 8, 2017
you can't get wet if you bathe with a raincoat on pic.twitter.com/MBfLGu21tZ

— loss.jpg (@BucketheadCase) February 8, 2017
Baal Manmohan Singh Spotted. pic.twitter.com/ED7aBwEDAH

— PhD in Bakchodi (@Atheist_Krishna) February 8, 2017
"Taking a bath with a Raincoat on"…@narendramodi sir ji hum to bachche hai apke samne Troll karna kya hota hai koi aapse sikhe..😁😜

— Anupama mathur (@anupamamathur1) February 8, 2017
From 2004-2014 manmohan singh was like this #RajyaSabha pic.twitter.com/WjP11eoRBQ

— Rupesh Ghosh (@being_RG23) February 8, 2017
Rahul Gandhi~ Modi ji MMS ji ka raincoat water proof hai #BhagodiCongress

— Indian National Con (@desimojito) February 8, 2017
#Raincoat never knew congi's and peacefools had some much love and respect for MMS https://t.co/mHP75E6zbJ

— Partha (@pschaudhuri) February 8, 2017
बिहार ने मोदीजी को नहलाया था, उत्तर प्रदेश मोदीजी को धोएगा, Raincoat पहनाकर

— Anil Chopra (@AnilChopraINC) February 8, 2017
Only MMS knows the art of bathing wearing a raincoat- Modi..

& only Sonia ji knows how much corruption they did while buying that raincoat

— Paresh Rawal Fan (@Babu_Bhaiyaa) February 8, 2017
RAINCOAT all politicians wear some in bathroom some in Foriegn countries

— dr sunil goel nephro (@ribuge) February 8, 2017
PM Modi says Manmohan Singh wore a raincoat to avoid getting tainted. Perhaps he wore gloves to avoid bloodstains of 2002 Gujarat riots

— Aditya Menon (@AdityaMenon22) February 8, 2017