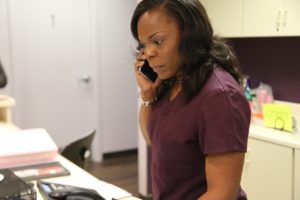 A Doctor From Alabama Vows To Continue To Provide Abortions Even After The Procedure Gets Banned In 6 Months
Earlier this week, Kay Ivey, the governor of Alabama pushed a ban on abortion, and any doctor that gets caught performing the procedure could get 99 years in prison for aborting a baby and 10 years for attempting abortion on someone.
But one doctor from Alabama, Dr. Yashica Robinson, the Medical Director of the Alabama Women's Center said that she is not going to change her "daily routine" even after the ban will come into law in 6 months.
Dr. Yashica said that she will continue to deliver babies, give parental care, and "prove abortions" just as she had for the past fifteen years.
The doctor said, "I am appalled that I could get a more severe penalty (up to 99 years in prison) for providing safe abortion care than someone who commits second-degree rape. And I hate that I am being placed in the position of reassuring my patients that abortion is still legal today – and for the foreseeable future – despite the actions of politicians in Birmingham [Alabama's most populous city]."
She added, "I am frightened for Alabamians because, should this law ever go into effect, doctors like me will leave Alabama rather than stay and practice substandard medicine."
She concluded her statement by saying, "But I remain hopeful for my state and my patients. The law will almost certainly be stopped in court. The outpouring of attention and activism is invigorating. I'm also encouraged that other states, from New York to Vermont, are taking steps to protect abortion access. And until I am told otherwise, I will continue to provide the best reproductive healthcare I can. Bottom line: Alabamans deserve better. We all do. So, I cling to a vision of a world in which people are not afraid to talk about their abortions, in which insurance covers the full cost of abortions and in which all women have access to high-quality maternity care and contraception. I urge the politicians in Alabama, and those around the country, please stop trying to make it harder for people to access health care. Instead, help me turn this vision into a reality."
When Kay Ivey, the governor, signed the anti-abortion law, she said, "Today, I signed into law the Alabama Human Life Protection Act. To the bill's many supporters, this legislation stands as a powerful testament to Alabamians' deeply held belief that every life is precious and that every life is a sacred gift from God."
A lot of celebrities and people were against the ban, most of them said the fact that 25 men voted for the ban.
Rihanna tweeted:
take a look. these are the idiots making decisions for WOMEN in America.
Governor Kay Ivey…SHAME ON YOU!!!! pic.twitter.com/WuAjSVv6TH

— Rihanna (@rihanna) May 16, 2019
Chelsea Handler, a Comedian, said, "Of those 25 men who voted to ban abortion in Alabama, I'd like to know how many of them have ever been pregnant. Or have gotten pregnant as a result of rape. I'd like to know how many of those men know exactly what it is like to be a woman. The answer is zero."