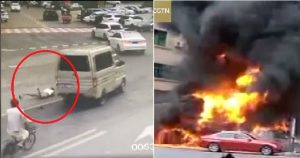 [Watch Video] Final Destination Scene In Real Life! Man Jumps Out Of Moving Van Seconds Before It Catches Fire!
Some end up their lives in the least assumed situations, some successfully live up to the mark if the luck backs them at the moment. We might have already watched tons of videos in which people escaped their deaths by milliseconds and millimeters.
And here's a mind blogging video of a horrifying scene that took place in Dongguan, Guangdong Province, in China which has emerged that is almost equally frightening.

We all feel so blessed and lucky whenever we survive a deadly accident. You are gracious for your life and thank the almighty, isn't it?
You might have seen many deadly accidents but this one is terrifying which was caught live on the CCTV camera, wherein a man jumped out of a moving vehicle, seconds before it burst up in flames. The 23-second video has captured the exact moment he leaped out and rolled onto the road.
Watch the video here:
Terrifying, isn't it?
Sadly, the van then rammed into a group of parked vehicles and damaged seven others. "The van rolled into parked vehicles before bursting into flames, causing a massive fire. After half an hour's rescue operation, the fire was under control by the firefighters. Seven vehicles were damaged in the incident," the caption reads.