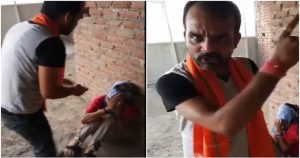 Man Avenges The Meme-Maker By Kidnapping & Assaulting Him On Facebook LIVE, Watch The Viral Video
The Internet has become a modern day bridge that can make anyone famous within the fortnight. Be it Bangladeshi actor 'Hero Alom', Indian singer 'Dhinchak Pooja', or people of Ejaz Khan, Pramod Dubey, and Deepak Sharma kind.
One strange video on trolling himself/herself or recording anything that is extremely strange is all enough to give a kick start to the Internet fame.
Deepak Sharma, this month's sensation, though he started his epic awkward journey on the Internet long back, his latest video regarding his educational qualifications have made him a center of memes. With so many illogical claims and degrees, there's definitely no room to assume that memes might go out of his reign.
Having intensely secular appearance, and claiming himself as the extreme rightist, Deepak Sharma is famous for all weird reasons, just in accordance with his videos.
In case if you haven't watched his 'Degree Enthusiast' video, check out below:
This video in which he addresses those people who send vulgar messages to him is going viral, starting with multiple dank memes on his expressions, the memes then mainstreamed the prominent Facebook pages.
In this row of unexpected popularity, somewhere somehow Deepak found a Facebook Admin who created some offensive memes on him. He literally kidnapped the admin and assaulted him at some under construction kind of place.
On the top of it, he even went Facebook Alive, shared the video, millions of users watched the video. Deepak in his video beats the boy blue and black. He even uttered derogatory comments on the meme makers.
Watch the video here:
This goon Deepak Sharma kidnapped a guy who made a meme. He's beating the guy mercilessly & threatening to kill him. This is outrageous! pic.twitter.com/DO66ey0Fn3

— Jas Oberoi (@iJasOberoi) July 30, 2017
As of now, no authorities have looked into the topic though Deepak went LIVE on social media. This happened in Jaipur city. Let us hope that the authorities might look into the issue as soon as possible.
Related Article: This Video Of Little Boy From Hyderabad Fighting Off Attacking Dogs In Going Viral, Shows What Is Bravery Perfectly! [MUST WATCH]