Priyanka Chopra's Longest Trench Coat At The Met Gala Made Twitter Explode With Hilarious Reactions
We all know that there is nothing that the wonder woman and Bollywood-cum-Hollywood Actress Priyanka Chopra can't do, as she shattered the glass ceilings, wowing Hollywood in abundance. Priyanka Chopra exuded confidence and a fierceness that seems to be in line with both her international characters Alex Parrish in Quantico and Victoria Leeds in Baywatch.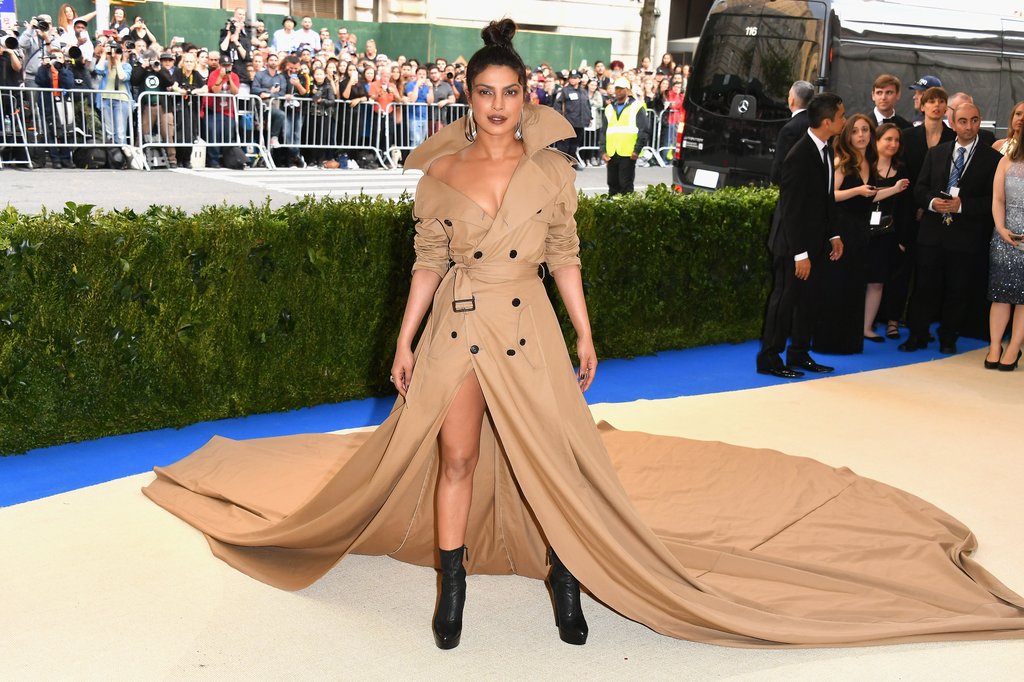 Priyanka Chopra, stepped onto the red carpet at the Met Gala 2017 wearing what literally is the longest trench coat in the world. As soon as Chopra ascended onto the red carpet, wearing that iconic trench coat with not long but possibly the longest train to have graced the red carpet of the Metropolitan Museum.
We might have ever seen PC like this and she gave a whole new meaning to the classic spring staple. The 34-year-old actress rocked an interesting take on the night's Rei Kawakubo theme, walking the red carpet in a Ralph Lauren Collection custom trench coat evening gown.
Chopra's outrageous trench coat isn't the most shocking look to hit the Met Gala red carpet over the years. Styled with effortless chic, Chopra had her hair up in a Samurai knot, sleeves casually rolled up and that one-shoulder popped collar just worked wonders. People took to Twitter and shared their words about PC wearing the Trench Coat.
Here are Some Hilarious Twitter Reactions:
"I dare you to clean that stretch of 129 meters in less than a minute."#Priyanka: "Challenage accepted."#Wow #Fashion #PriyankaChopra pic.twitter.com/bLMZA9cL7G

— Phoney Soprano (@TumourousGuy) May 2, 2017
How Priyanka Chopra's gowns are delivered pic.twitter.com/yQFjzJhKKd

— The Frustrated Indian (@FrustIndian) May 2, 2017
"Priyanka Chopra ne ki parachute pehene ke landing #MetGala me"
Dekhiye exclusive news,
Cameraman Rakesh ke saath,
Samwaddata Mukesh,
AAJTAK pic.twitter.com/tvw2PPe60D

— Mayank Agarwal (@SociallyMayank) May 2, 2017
"Chalo camping karne chalte hai"
Priyanka Chopra : OK!
"But Tent bhi lena padega"
Priyanka : Say No More ! pic.twitter.com/m7lXOcBKXY

— Rohit Sharma (@imWrong45) May 2, 2017
Priyanka Chopra isse kehte hain:
'Roti, Kapda aur Makaan' 👌#PriyankaChopra #MetGala pic.twitter.com/cJSJsya2It

— Punya Arora (@clickmadness) May 2, 2017
#BREAKING
Shooting of the new Season of Mahabharata
Priyanka Chopra plays the role of Draupati pic.twitter.com/ZcmSktlqBB

— Ashish (@gillu099) May 2, 2017
Ranveer Singh : "I had the worst outfit ever!"
Priyanka Chopra : "Hold my beer!" pic.twitter.com/XTjhKaQZgH

— 🅱hargav (@ThatIndianGuy) May 2, 2017
Priyanka chopra dress is longer than RCB innings #IPL 😂😂😂😂 Kaisa lga mera mazak ?? pic.twitter.com/q2oKcAtm3g

— Arora Librandu (@Rajesh_Arora1) May 2, 2017
I am dying for @priyankachopra's Inspector Gadget couture realness.#metgala pic.twitter.com/EWhWwlFlJy

— Lindsay L Miller (@lindsaylmiller) May 1, 2017
I swear I'm never gonna look at a trench coat the same. We really don't deserve @priyankachopra . She's ethereal. 🌹

— Dina🌹 (@FatalBeautyxo__) May 1, 2017
Only one human can pull off this beige trench coat behemoth and that's @priyankachopra #MetGala pic.twitter.com/JNYOuX0N6z

— Maeve McDermott (@maeve_mcdermott) May 1, 2017
Priyanka Chopra looks like she is going to kick some butt in this Ralph Lauren trench coat gown. She looks fierce. #metgala #fashion pic.twitter.com/PdLg6LPPj5

— Dawn Hay (@dawnandeva) May 1, 2017
I can't believe the #MetGala hasn't even started yet and @priyankachopra has already slayed us all

— #jess (@hipslikePC) May 1, 2017
@priyankachopra chopra world largest Trench Coat…luv it..Girl u kill it..😍😍😍😗😗😗😗😗😗😗😗😗😗 pic.twitter.com/Z164XokoP4

— shilpa dholi (@ShilpaDholi) May 2, 2017
Basically, she looked like the coolest girl on the carpet. Then how could netizens not be wowed?