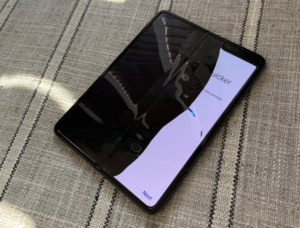 Samsung's New Galaxy Fold Phone/Tablet Worth $2000 Is Already Breaking, Most Issues Are With Its Screen
Samsung is set to change the game with their new foldable phone which is 4.6-inches when folded and 7.3 inches when opened.
The tech giant is lowkey trying to bring back the flip phones.
The Samsung Galaxy Fold has a 7.3-inch display, 12GB of ram, and costs about $2000.
Many tech reviewers were given an early access to the phone and it looks like they are facing the same problem, almost all of them.
Mark Gurman from Bloomerg tweeted that his Samsung Galaxy Fold is "completely broken" within 2 days.
The screen on my Galaxy Fold review unit is completely broken and unusable just two days in. Hard to know if this is widespread or not. pic.twitter.com/G0OHj3DQHw

— Mark Gurman (@markgurman) April 17, 2019
Mark, later on, revealed that he removed a protective layer from the device that he was not supposed to, he thought that it was one of those layers that were kept on the screen to make it look nice.
The phone comes with this protective layer/film. Samsung says you are not supposed to remove it. I removed it, not knowing you're not supposed to (consumers won't know either). It appeared removable in the left corner, so I took it off. I believe this contributed to the problem. pic.twitter.com/fU646D2zpY

— Mark Gurman (@markgurman) April 17, 2019
Mark was not alone, one of the best YouTube tech reviewer, Marques Brownlee, also faced the same problem after he removed the film.
Mark and Marques thought that removing the film was the reason why their Samsung Fold device broke down, but no. Other journalists said that their devices broke even though they had not removed the protective film.
PSA: There's a layer that appears to be a screen protector on the Galaxy Fold's display. It's NOT a screen protector. Do NOT remove it.

I got this far peeling it off before the display spazzed and blacked out. Started over with a replacement. pic.twitter.com/ZhEG2Bqulr

— Marques Brownlee (@MKBHD) April 17, 2019
Samsung said that they are looking into the problems with the device.
A statement released by Samsung said, "A limited number of early Galaxy Fold samples were provided to media for review. We have received a few reports regarding the main display on the samples provided. We will thoroughly inspect these units in person to determine the cause of the matter."
It added, "Separately, a few reviewers reported having removed the top layer of the display causing damage to the screen. The main display on the Galaxy Fold features a top protective layer, which is part of the display structure designed to protect the screen from unintended scratches. Removing the protective layer or adding adhesives to the main display may cause damage. We will ensure this information is clearly delivered to our customers."
The phone will be released in the United States on April 26, 2019, for $1980, this is one of the most expensive phones in the market.
The last time Samsung faced a major problem like this was in 2016 when the Galaxy Note 7 had battery issues.
Samsung was forced to recall almost every Note 7 device that they sold.