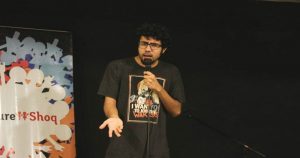 This Stand-up Comedian Abhishek Upamanyu Nails It On 'How Indians Handle Insults'
Thanks to the technology, now we can laugh for a while watching some popular Podcast channels like AIB and BB Ki Vines. Nowadays a new wave of entertainment triggered the entertainment category and that is giving a widened opportunity to Standup comedians and role plays.
One can have an amazing career in this offbeat entertainment genres and all it needs is a quality content, this is what a comedian uses in making the audience to keep laughing. This young man from Mumbai took on to this track and made his first ever stand-up comedy show which already gathered huge attention. His views on desi mentalities are quite natural and catchy.
He entitled his video as "Indian Insults & Comebacks" which is going viral on social media with having 730K+ views and 20K+ likes.
Watch The Video Here:
Now, Abhishek analyzed the way Indians react to the insults and it is quite apt. If the patriot within you is suddenly provoked at this joke, let stand-up comedian Abhishek Upmanyu reveal to you what he thinks in this hilarious act.
This budding artist performed his first at Canvas Laugh Club, Upmanyu starts off with how we Indians are in fact brilliant at several things but when it comes to comebacks we are barely creative.
The viewers must hold tight to their pillows while watching the parent-kids conversations' part.  The generation gap indeed does form the basis of more than half of our comic entertainment. We can all relate to how parents deal with kids' propositions by repeating what is said in a sarcastic tone and sometimes do manage to throw us completely off balance.