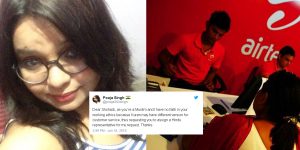 Twitter Bashes Woman When She Asks Airtel To Change Their Muslim Representative
Yesterday a woman named Pooja Singh asked Airtel for a Hindu representative as she had trust issues with Muslims. Bharti Airtel clarified this woman, but it was too late as Twitter bashes this lady harder.
@airtelindia pathetic Airtel DTH customer service.I raised complaint for reinstallation of DHT.but assigned service engineer miss behaved with me. His words are "Tum Phone Rakho Dobara call mt krna " his number is+91 79-85195094. This is how Airtel is looting it's customer.

— Pooja Singh ?? (@pooja303singh) June 18, 2018
Pooja Singh complaint about his Airtel DTH service to Airtel Team on Twitter. She also mentioned that their service engineer miss behaved and asked her to not call again on this number.
As Airtel always do, they replied to the tweet for the inconvenience and told her that they would get back to solve her problem. Airtel's representative named Shoaib posted this tweet.
She replied to the tweet in a way no one can ever imagine. She replied and asked Airtel to get her a Hindu representative as she doesn't trust Muslims.
Dear Shohaib, as you're a Muslim and I have no faith in your working ethics because Kuran may have different version for customer service, thus requesting you to assign a Hindu representative for my request. Thanks

— Pooja Singh ?? (@pooja303singh) June 18, 2018
Airtel should clarified this woman about her problem, but instead of doing this they changed their representative.
Airtel didn't take any time and changed their representative to the other guy named Gaganjot. They didn't mention anything about Pooja's tweet and tried to solve her problem.
After few hours Airtel mentioned this problem to Pooja and told her that they don't differentiate their employees and customers on the basis of caste or religion. But it was too late for them because Twitterati started bashing this lady with their tweets.
Tweerati Tweets:
Twitterati was also angry on Airtel because of their reply to the tweet. Most of them even said that they are not going to use the service of Airtel anymore.
The former Jammu and Kashmir Chief Minister Omar Abdullah also twitted a reply to Airtel and told them that he is not going to use Airtel DTH and Broadband anymore.
Dear @Airtel_Presence this conversation is genuine (I've seen the timeline myself). I refuse to pay another penny to a company that condones such blatant bigotry. I'm beginning the process of porting my number to another service provider & canceling my DTH & Broadband. pic.twitter.com/BZxJOaEsN6

— Omar Abdullah (@OmarAbdullah) June 18, 2018
Tweerati Tweets:
Along with Omar Abdullah, so many people felt the same way and they tweet about this issue which gave a perfect reply to this lady.
5 घण्टे लग गए इनको 5 लाइन टाइप करने में। बहुत फ़ास्ट है एयरटेलhttps://t.co/38dFsl2yCN

— Ravish Kumar (@RavishReal) June 18, 2018
Heights. Why they would fire shoaib? Crazy

— PrestituteMuktBharat (@FreedomfrmMedia) June 18, 2018
Pooja is so Hindu, she doesn't use Petrol/diesel in her car as it comes from Muslim countries, runs it only on Gobargas.

— Mehek (@MehekF) June 18, 2018
Be careful! Pls see your ophthalmologist soon !! U are blinded by hatred !!! U couldn't even spell his name right in a reply, !! N it's the Quran BTW !! Agar nafrat se dimaag nahi kharaab hua hota toh shayad education mein basic spellings toh pata hi hoti!! ??

— Gauahar Khan (@GAUAHAR_KHAN) June 18, 2018
There are still many people in the world who judge people on the basis of their caste or religion which is not a right thing, and they will also encourage their kids to develop the same behavior they have. We are pretty much sure that Twitterati had made this lady understand her real problem.