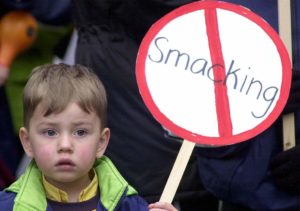 Wales Can Become The First Country In The UK To Ban Parents From Smacking Their Kids
Wales can become the first country in the United Kingdom to stop parents from smacking their kids.
Ministers in Cardiff are hoping that Wales will become the first country in the UK to stop parents and other adults from smacking their children as a punishment of their wrong actions.
Scotland is also looking to execute the same ban in their country, the new bill was proposed by Green MSP John Finnie.
Deputy Minister for Health and Social Services, Julie Morgan said, "We are sending a clear message that the physical punishment of children is not acceptable in Wales. What may have been deemed as appropriate in the past is no longer acceptable. Our children must feel safe and be treated with dignity. The legislation will be accompanied by an awareness-raising campaign and support for parents."
Last year, a published research said that 1 out of 10 parents in Wales said that they have smacked their child to manage their behavior. 4 years ago the numbers were 1 out of 5.
The study also said that 81 percent of the parents disagreed with the statement "It is sometimes necessary to smack a naughty child."
Julie Morgan said that smacking may have been appropriate in the past, but now this is "no longer acceptable".
Julie Morgan added, "I don't see any signs of the UK government doing this."
Julie Morgan has campaigned against smacking for 20 years since she was an assembly member and before she was the MP for Cardiff North.
She added, "I think that they [the UK government] felt nervous about it, they felt the time was not right; it feels in Wales the time is right. I'm sure England will follow."
The bill has received a number of support from children organizations like NSPCC and Barnardo's Action for Children.
Head of Policy at NSPCC Cymru, Viv Laing said, "It's wrong that children in Wales have less protection from assault and that a legal defence which does not exist when an adult is hit can be used to justify striking a child. We have long campaigned for equal protection for children and we strongly believe a change in the law is a common-sense move. Closing this loophole brings Wales in line with dozens of countries across the world and is simply about fairness and equality for our children."
The president of the Royal College of Paediatrics and Child Health, Professor Russell Viner said, "When a parent raises a hand to a defenceless child, whether that's a smack, slap or another physically harmful behaviour, they have lost control. Research tells us that children who are physically punished are more likely to have poorer mental health and physical well-being and when they grow up, are more likely to engage in self-destructive or antisocial behaviour. Hurting a child isn't acceptable and it is a form of child abuse."
Many campaigners argued about the proposed changes that will charge parents when they smack their kids.
If the proposal gets approved, Wales will join those 54 countries that have banned the physical punishment for the children.
In 1979, Sweden was the first to ban the actions, countries like Albania, Greece, The Democratic Republic of the Congo, and Kenya followed after.
If the bill gets passed by the Welsh Assembly, it will give children the same protection rights from physical punishments as the adults.
Physical punishment like smacking is currently against the law in schools. Removing it is seen by many as the last step in making physical punishment to children banned in all circumstances.