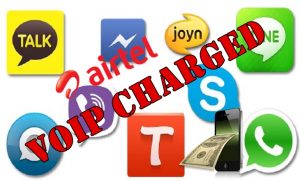 Airtel Customers to be Charged More For Using Viber, Skype and VOIP Services
Airtel users and customers get ready to shell out and spend more while using mobile data (internet). On the eve of Christmas, Bharati Airtel came up with a new policy which violates Net Neutrality and charges for Voice over Internet Protocol (VOIP). VOIP applies for every call that is made by using free web based calling apps such as Viber, Skype. Bharati Airtel came up with new terms and conditions for 3G and 2G data plans thus restricting users to make free calls and  exclude Voice over IP services (VoIP), including both incoming as well as outgoing calls from internet data plans.

No Fee on OTT and VOIP: TRAI, Govt. Of India
Earlier this year, there was a buzz around a fee being imposed on popular OTT services, but the matter fizzled out soon after TRAI rejected telcos' proposal to do so. In a bid to make up for the losing revenue, Airtel has decided to play the evil Santa this Christmas and announced an extra charge on making VoIP calls. This means, you will have to pay an additional sum for any calls you make over the Internet using services like Skype, Viber and so on. Market analyst's state responded to this remarking a statement that the whole fuss is about telecom companies finding it hard to increase revenues, considering SMS usage has dropped and so has calling, to some extent. Smartphone applications such as WhatsApp, Viber and Skype have been a key factor in India where these apps were clearly a reason for the hike in purchases of smartphones.
Charges For Using Viber, Skype and VOIP Services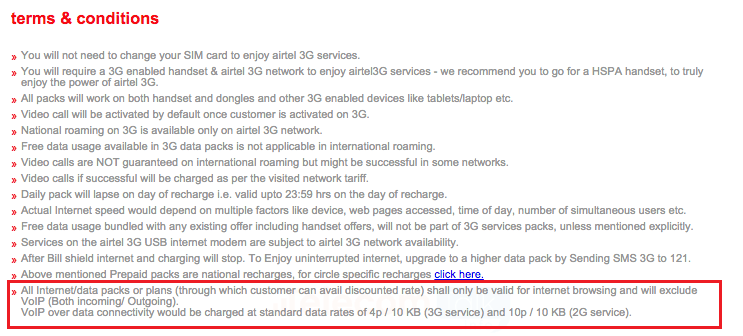 It was evident that the  Indian market has been a better market for the mobile networking companies where the mobile network services and devices usage has been increasing day by day. People used to get SMS plans till past year while the year 2014 has made SMS an outdated mode to communicate with each other as customers and mobile phones freaks find it more easy and reliable with the smartphone social networking apps such as Skype, Viber, WhatsApp and much more. According to the new terms and conditions listed on Airtel's website, VoIP over data connectivity would be charged at standard data rates of 4p / 10KB for 3G service and 10p / 10KB for 2G service. This means you'll pay extra charges for data when you make a Skype, Viber or Line call even if you subscribe to a data plan instead of the data used being deducted from your monthly allowance. Moreover, 2G users would pay more even when they get lower data speeds.
Airtel Down Down…!!!
People across the nation have been protesting with this new T&C in every possible way making it a buzz on Facebook and Twitter with hash tags. Airtel spokesperson responded as "We have made some revisions in the composition of our data packs, and will offer VoIP (Voice over internet protocol) connectivity through an independent pack that will be launched shortly. Our customers can continue enjoying voice calls over data connectivity by opting for this VoIP pack, or simply use VoIP services on the pay-as-you-go basis." The spokesperson also informed that Video chat services including FaceTime for pc and Skype Video will not be charged differently. A cooling off period of six months applies for existing users. This means if you activated your data connection last month, you'll get five more months before being switched to the new rates.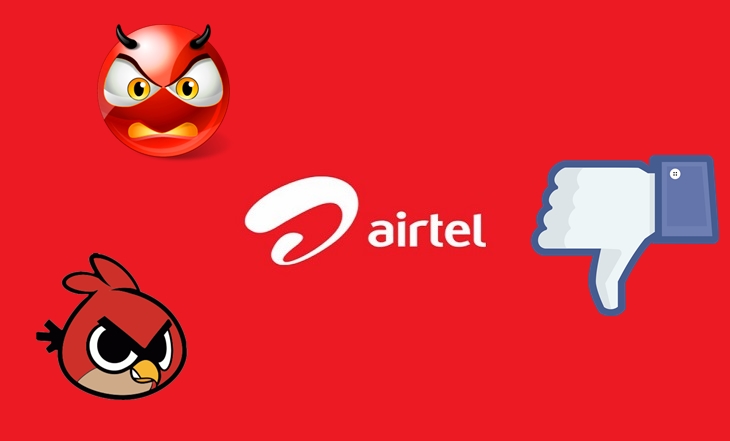 Airtel's charging for VOIP comes at a time when the world is debating net neutrality and in a way penalizes users for making free internet based calls. It appears as anti-net neutrality as Airtel is making users pay differently for services that potentially affect its business. Ideally, internet providers should charge all services at the same rate. Indian mobile operators say that they have made big investments in creating networks and OTT players are getting a free run. Earlier, Vodafone India MD and CEO Marten Pieters had said that the government should tax over the top (OTT) players like WhatsApp, Viber, Hike and Facebook as they are getting a "free ride" on telecom networks without paying for spectrum or any other fee. Interestingly, in August, the Telecom Regulatory Authority of India (TRAI) had decided against a proposal of telecom operators to make companies that offer internet services share part of their revenue with them or the government. It had also said that it was examining Airtel's data packages offering access to services like Facebook and WhatsApp for fixed but nominal amounts to determine whether they amount to "preferential access."