Akkineni Nagarjuna Niece Anumolu Sahitya Caught in Drunk and Drive Case
This is not the first time that the celebrities or the releatives of them and many others youngstars (sons and daughters of), big people are caught in drunk and drive case. It has became so common in hyderabad the foregin pub culture many students, youth got attracted to it. Without the consideration of gender boys and girls both are caught in drunk and drive case.  Drunk and drive cases were rampant in Hyderabad city and till now many celebrities caught in the case.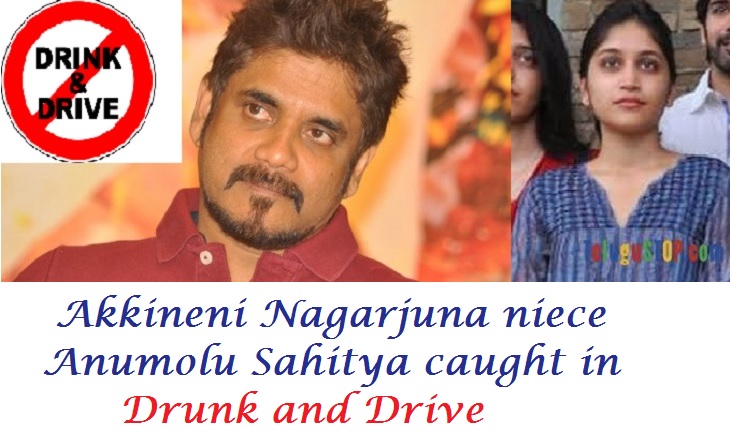 Recently, Actor Akkineni Nagarjuna's niece Anumolu Sahitya was caught by the traffic police while she was driving under the influence of alcohol at Jubilee hills on Saturday night. Sahitya may face fine up to Rs 2,000 for drunk driving and imprisonment depending on the court's decision on Tuesday.  These incidents will definitely damage their reputation somehow.
Anumolu Sahitya happens to be the daughter of Anumolu Naga Susheela, who is late Akkineni Nageshwar Rao's third child.  Jubilee Hills police said, "The lady, who was driving a Hyundai Verna, was stopped at road no 14. When made to undergo a breath analyzer test, the reading showed a blood alcohol content (BAC) count of 45 mg/100ml, which is above the permissible limit of 30mg/100ml."
Nagarjuna Niece Anumolu Sahitya Caught Drunk & Drive:
Mr Reddy added that the woman introduced herself as Sahitya, and the vehicle that was seized is registered in the name of Akkineni Nageshwar Rao. Sahitya was driving the car in a drunken state and was alone in the car when she was stopped by traffic police. Total 23 vehicles were seized by Jubilee hills police during the special drive on Saturday night, said inspector T. Srinivas Reddy. Jubilee hills police seized the vehicle and she was directed to appear for counselling on Monday, and to the court on Tuesday.
Press CTRL+D right now to bookmark this website. Here you can know the recent, updated news and gossips all over india. Stay tuned for this website for more updates.