Final Words Of Legend: APJ Abdul Kalam Last Speech At IIM Shillong [VIDEO]
Published on 11:07am, July 28th 2015. Updated on 9:32am, July 27th 2016
As we already know, Former President APJ Abdul Kalam was admitted to a hospital in Shillong following sudden illness delivering a speech at the Indian Institute of Management (IIM) in Shillong at around 6.30 pm. Later, he passed away during the treatment. Here we have some last memories of the Legend Abdul Kalam.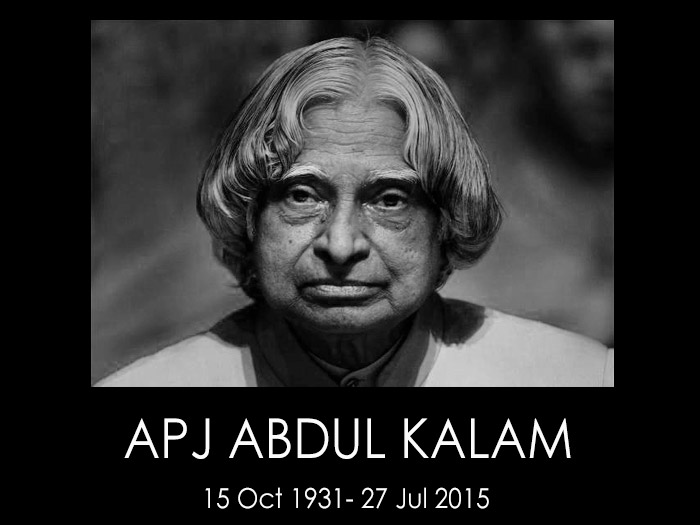 Arriving at the Indian Institute of Management around 5.40 PM, he took rest for sometime and started the lecture on 'Livable Planet' at 6.35 pm. He collapsed five minutes later, according to Director, IIM-Shillong, Prof De. Kalam last tweeted "Going to Shillong to take course on livable planet at IIM."
Last Tweet of Abdul Kalam Sir:
Going to Shillong.. to take course on Livable Planet earth at iim.
With @srijanpalsingh and Sharma.

— Kalam Project (@APJAbdulKalam) July 27, 2015
Last Speech Of APJ Abdul Kalam at IIM Shillong:
This is the best example he has given in many places. "When the Failure occurred the Leader took it up, when the success came to gives to his team".
The body was taken to the Military Hospital and will be kept there for the night. It will be taken by an Air Force helicopter to Guwahati at 5.30 am on Tuesday and from there to Delhi by a special aircraft.
One of the Best Quote of Abdul Kalam Shared in Last Speech:
Don't take rest after your first victory because if you fail in second, more lips are waiting to say that your first victory was just luck." – A.P.J Abdul Kalam
Some Unique Achievements of Abdul Kalam as President of India:
The First President to fly a Sukhoi fighter jet
The First President who sailed in Submarine
Visit high-altitude Siachen besides LoC
The first among Indian President to address the Indian Science Congress in 90 years
Kalam utilised any opportunity that came to him to address students, especially school children
The first President to write multiple number of books.
"Wings of Fire" has been translated to 13 Languages.
The legend, the former president was very keen about Carnatic Music and was a Veena Player. He was a vegetarian all his life.