Australian Cricketer Phil Hughes Critical Condition, knocked out by bouncer at SCG and Has Been Induced In Coma
Australian Batsman Phil Hughes, 25-year-old collapsed unconscious and is in a critical condition after being struck by a bouncer in Sydney on Tuesday. The South Australian Batsmen who played 26 tests between 2009 to 2013, collapsed after delivery from New South Wales bowler Sean Abbott. Despite wearing a helmet Phil Hughes got hit and collapsed on the cricket pitch which dismayed everyone at the match and the Sheffield Shield match was abandoned after hospitalizing the injured player Phil Hughes who is reported to have been assisted with all the emergency medical services at the cricket stadium post his injury.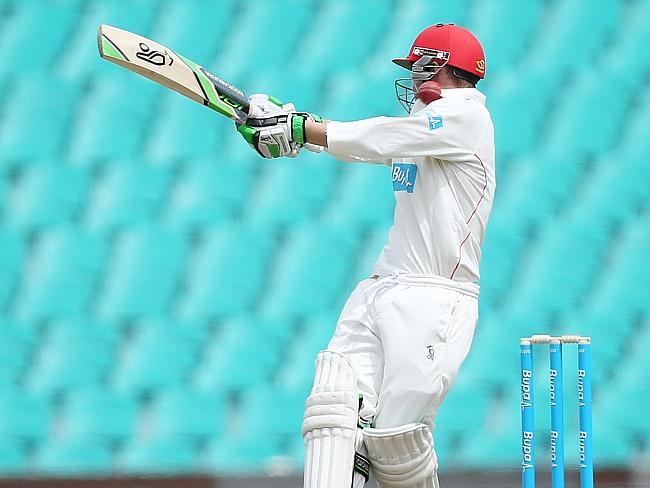 Australian Cricketer Phil Hughes Has Been Struck And Hospitalized  
Australian Batsman Phil Hughes fall face-first to the ground after being struck by the miss judged bouncer from Sean Abbott placing his hand on his knee after being struck. Australian cricketer Phil Hughes was then given mouth-to-mouth resuscitation and oxygen on the boundary line after being stretchered off the pitch, and was then taken to nearby St Vincent's hospital. Australia Test batsman Phil Hughes underwent surgery and in a critical condition in a Sydney hospital.
Hughes is currently in the Intensive Care Unit at St Vincent's Hospital in Sydney's inner suburbs. He is in an induced coma and in a critical condition. Hospital spokesman David Faktor has provides an update on Hughes' condition to Cricket Australia's official website that "Phil Hughes is in a critical condition and undergoing surgery. He underwent a set of scans to assess the injury."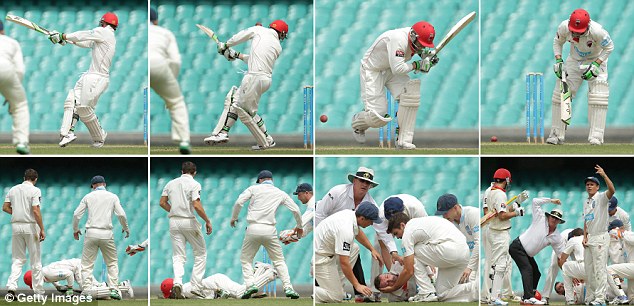 Tim Nielsen, South Australian Cricket Association's general manager said in a media report that we may not have news on the success of Hughes' surgery for some time and as you're aware, Phil Hughes was injured today and he's undergoing surgery. The outcome of that surgery is unlikely to be known for 24-48 hours, we ask you to respect the privacy of his family and friends." Cricketers across the world have been taking Phil Hughes side and are stating their gloominess and melancholy after being enlightened of the mishap.    CEO of Cricket Australia sent his best wishes to the hospitalized Phil Hughes making his statements as "We were all in shock, pleasingly there was medical attention he was able to receive immediately at the ground and then to be transported to hospital.
Cricket Australia CEO James Sutherland Expresses His Grief and Support
"We were all in shock," he said. "Pleasingly there was medical attention he was able to receive immediately at the ground and then to be transported to a hospital. Now we hope that whatever the procedure is that he's going through, he comes through in the right way and gets the best possible care and recovery. It's difficult for [the players] being there and they're all very close to Phil. He's a really popular guy, not just here but around the world. " He added to this saying that "Everyone knows and understands the way he plays his cricket. He's fiercely determined, extremely proud of his achievements and I guess he's a quiet achiever, but has the respect of all of his team-mates."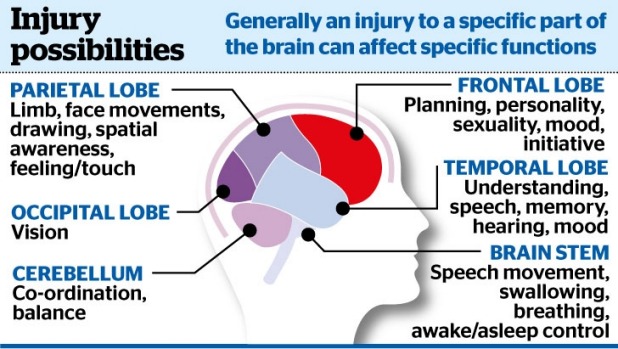 The Indian cricket team has extended its best wishes to injured Australian cricketer Phil Hughes and his family and prayed for his speedy recovery.  Indian cricket team released a statement through Cricket Australia expressing "The touring Indian cricket team extends its best wishes to Phil Hughes and his family at this time. We join with the rest of the cricket community around the world to offer our support and prayers to Phil and his family as well as our friends within Australian Cricket," Indian cricket team released a statement through Cricket Australia. Similarly SACA (South Australia Cricket Association) conveyed its best wishes postulating that "On behalf of the SACA Board and administration, our thoughts and prayers are with Phil Hughes and his family at this time."
Cricket Australia in an official media report stated that "Phil suffered an injury to his head from a delivery Phil has been taken to hospital in Sydney and has been accompanied by family members and SACA General Manager High Performance, Tim Nielsen."  Australian captain Michael Clarke was one of the first people to rush to the hospital and is currently with Hughes's sister and mother Virginia who were at the SCG.
Twitter is Being Swarming with Tweets
Microblogging social media site Twitter has been swarming with the tweets which are being tweeted expressing the user's grief over the mishap and are stating their positions aside Phil Hughes and their family members claiming his speedy recovery.  Top cricketers from around the world united in their support for Phillip Hughes on Tuesday after a ball to the head left the Australian batsman in critical condition in hospital. Former Australia cricketer and fast bowler Glenn McGrath tweeted on twitter that "Our thoughts are with Phillip Hughes & his family. Wishing him a quick & full recovery."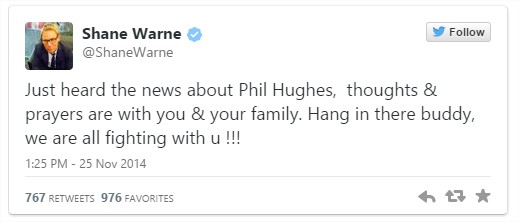 Former Australia cricketer and spinner Shane Warne said that "Just heard the news about Phil Hughes, thoughts & prayers are with you & your family. Hang in there buddy, we are all fighting with u!!!" similarly the Australian fast bowler tweeted that "Thinking of you mate! Hope everything is ok with u Hughesy." Coach of Australian Cricket Darren Lehmann too stepped ahead and tweeted that "Our thoughts and prayers are with Phil and his family! He is a great fighter and a great young man!"
What all you need to know more about Phil Hughes?
Phillip Joel Hughes is an Australian cricketer who was born on 30th November 1988 who has been playing Test and One-Day International (ODI) cricket matches as of now and also plays domestic cricket for South Australia and Worcestershire and made his test debut in the year 2009 at the age of 20. The most important thing as far as Australia's selectors are concerned is that Hughes picks up plenty of runs from his country-baked technique, which includes compulsive slicing through point and slashing to cover, as well as stepping away to provide room for tennis-style drives down the ground.
Full name Phillip Joel Hughes
Born November 30, 1988, Macksville, New South Wales
Current age 25 years 361 days
Major teams Australia, Australia A, Australia Under-19s, East Torrens, Hampshire, Middlesex, Mumbai Indians, New South Wales, New South Wales Under-19s, South Australia, Western Suburbs, Worcestershire
Playing role Opening batsman
Batting style Left-hand bat
Fielding position Occasional wicketkeeper
All India Round Up takes the side of the Phil Hughes and his family with all grief let us fight for his speedy recovery. Stay tuned to All India Round Up for more trendy and updated posts.